Why is Kim Jong-un always surrounded by people taking notes?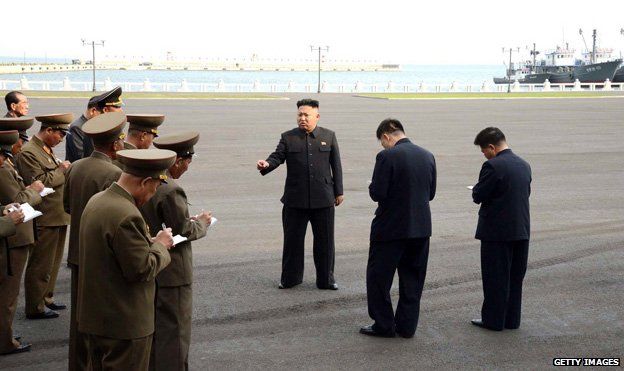 There's a newly released batch of photographs of North Korean leader Kim Jong-un on a series of site visits. The dozens of photos all have one curious detail in common - the leader is surrounded by officials and generals making notes in identical notepads, writes Kathryn Westcott.
In the photographs - from the country's official Central News Agency (KCNA) - Kim Jong-un observes a unit of women conducting a multiple-rocket launching drill. He strides around a fishery station. He gives a pilot on flight training a pep talk. He enjoys the facilities at a renovated youth camp.
But who are those men meticulously taking notes? They're not journalists, but soldiers, party members or government officials, says Prof James Grayson, Korea expert at the University of Sheffield. What is happening is a demonstration of the leader's supposed power, knowledge, wisdom and concern, says Grayson. It's "on-the-spot guidance", something instigated by his grandfather Kim Il-sung in the 1950s. "It's part of the image of the great leader offering benevolent guidance," says Grayson.
What might that guidance be? Well, if Kim's anything like his grandfather it could be practical advice. Very specific practical advice. After Kim Il-sung visited a fishery in 1976, KCNA published this: "Watching a truck at work, the president said that its bucket seemed to be small in comparison with its horsepower. He said the problem of carriage would be solved if the bucket was enlarged. Afterwards the truck's bucket capacity increased to two tons from 800 kg. As a result, 20 trucks were capable of carrying the load to be done by 50 trucks."
Despite the fact that tablets are available in the country, paper notebooks remain the favoured medium. "These are pictures that will be broadcast on television and shown in the state media, so those who are there want to be seen recording Kim Jong-un's every word," says Grayson. "It's about presenting him as having broad knowledge - however, it's ridiculous, he can't possibly know about all of these different things. It's important, however, that the apparatchiks that surround him are seen to be hanging on his every word."
According to Prof Steve Tsang, chair the School of Contemporary Chinese Studies at the University of Nottingham, the note-takers will be writing extremely carefully. "They wouldn't want to write down anything that was, say, politically inaccurate, or it might come back to bite them." The notes are not usually published or available for the public to view, says Tsang. "If anything comes out of them, it would be via the propaganda department. Whether it was what was actually said, or is different to the guidance given at the time, doesn't matter. No-one will ever question it. If you were at the factory and the advice that was released wasn't quite what you had in your notebook - what are you going to do about it?"