Who, What, Why: Is the craft beer craze going to cause a hops shortage?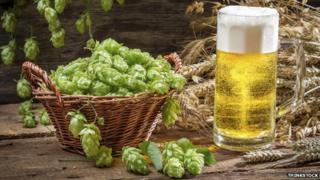 Hops growers are struggling to meet demand. Could beer-makers run out of a crucial ingredient?
Hops are hot. Their price in the US has doubled in 10 years. Some even predict the equivalent of Armageddon for beer lovers - a hops shortage.
The reason is craft beer, which has come from nowhere to claim 8% of the US beer market.
Far more hops go into craft beer than the equivalent produced by large corporate brewers - roughly six times more. The brewing revolution has triggered a shift away from bland, high-yield alpha hops to the "aroma" varieties responsible for the striking citrus notes in craft beer. It is a "double whammy" - more hops needed but they are of the varieties that are less productive.
By next year, acreage will be planted 60/40 in favour of aroma varieties, says Ann George, director of Hop Growers of America. It used to be 70/30 the other way. The hop plants take a couple of years to be productive. It's going to be touch and go. "Craft breweries are opening faster than farmers can grow hops," reported US online magazine Vox.
Steve Dresler, brewmaster at Sierra Nevada told the Financial Times that the crunch could come as early as next year.
Before everyone panics, the US situation is rather different to Europe's. The price of hops in the UK and Germany has not surged in the same way as in America, says Alison Capper of the British Hops Association. She concedes that many craft beer-makers in the UK insist on American hops. But even in the UK things will be difficult if last year's weather problems are repeated. The 2014 crop is "pretty much sold out", she says.
So could the pumps run dry for US craft beer in the coming two years?
"It will be tight," says George. "There are more brewers in the marketplace, more people want hops and growers can only expand so quickly." She rejects talk of a shortage. But says that small producers who rely on last minute hops purchases, could miss out.
A cynic might say that producers always talk up scarcity. But a shortage is not fanciful - it happened in 2007. Panic buying by hipsters might be premature. But small brewers may need to think further ahead or be ready to tweak their recipe.
Follow @BBCNewsMagazine on Twitter and on Facebook