Why people get tattoos of their employer's logo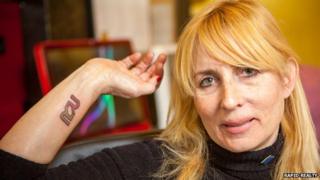 Jill Abramson was executive editor at the New York Times. She had the newspaper's distinctive gothic "T" tattooed on her back. She has now been sacked. Why do employees take corporate branding to extremes, asks Laurence Cawley.
Long before James Cook supposedly brought tattooing to the West in the 18th Century, the arms of pilgrims were marked with their voyages to the Holy Land.
Such tattoos were a reminder of a journey made.
Perhaps Abramson's tattoo, symbolising her career journey to the top of the New York Times, is not that dissimilar.
"It is iconic, it is not a bad tattoo design," says art historian Matt Lodder of the University of Essex about the New York Times' "T". "It is simple, it is recognisable and it works well as a sign.
"She has not had the logo of the corner shop tattooed on her but the symbol of the New York Times and she was probably really proud of this moment in her life when she was made editor."
Abramson's tattoo is about personal achievement, says Lodder.
For others, work tattoos are about "group allegiance".
Examples, says Lodder, include the armed forces and members of sports teams. But they can also include actors, as cast members in 'The Fellowship of the Ring' proved when they all had tattoos done of the word 'Nine' in Elvish.
Money too can be an incentive. At Rapid Realty in New York, staff who get a company logo tattoo are rewarded with a higher rate of commission (up to a maximum of 40%) . More than 40 staff have already opted for a tattoo, the company says.
But as the Abramson case shows, the relationship between the employer and employee can be severed.
"Most people don't imagine they are going to get the sack," says Lodder. "It'll be interesting to see whether she will now get it removed. I imagine she won't."
Follow @BBCNewsMagazine on Twitter and on Facebook