Who, What, Why: What is an 'obesogenic' environment?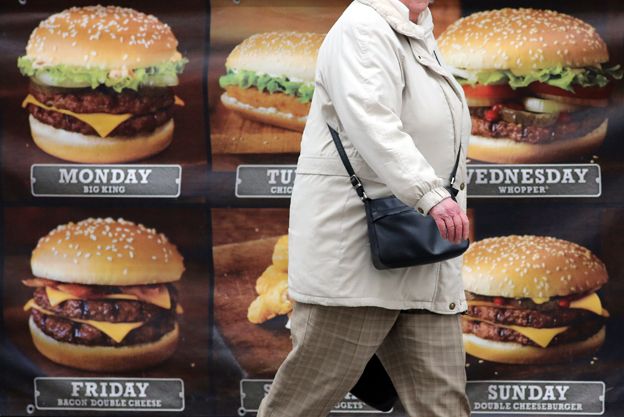 A new report on obesity says governments needs to get a grip on "obesogenic environments". What are they, asks Tom de Castella.
The UK's National Institute for Health and Care Excellence (NICE) has put part of the blame for obesity on "obesogenic environments". What are they? In simple terms, environments that encourage people to eat unhealthily and not do enough exercise.
It is places - usually urban - that encourage cars over walking, says Prof Mike Kelly, director of NICE's centre for public health. Many US cities fall into this category with Atlanta being a prime example, he says. It is also buildings with lifts and escalators prominently sited and staircases hidden away.
Food is the other crucial factor. High Streets and public places such as stations and cinemas are dominated by shops selling fried chicken, burgers, sugary drinks, pasties and sweets. They are calorie-dense foods. The scale of the temptation is far greater today, says Kelly. And research shows that the number of takeaways in an area has an impact on obesity, he says. Birmingham City Council has limited the number of takeaway outlets to no more than 10% of units in any shopping area.
Diet matters more than people moving around, says Paul Gately, professor of exercise and obesity at Leeds Metropolitan University. "Without a shadow of a doubt food has a greater impact on obesity than a person's movement." He thinks "obesogenic environment" is a useful way to put the onus on policymakers, rather than just blaming individuals for getting fat.
The link between smoking and lung cancer was first spotted in 1952 but it's taken decades to restrict smoking, Kelly says. It will take just as long for developed nations to dismantle the obesogenic environments, he predicts.