Who, What, Why: Why do African-American women breastfeed less?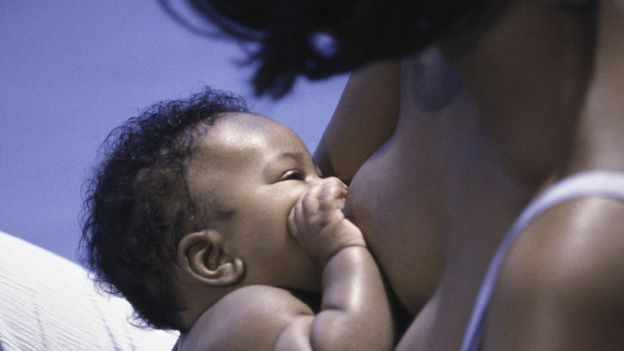 A photo of a woman breastfeeding a baby during her university graduation ceremony sparked an internet row after it was posted online by a group dedicated to supporting black women who nurse. Why are African-American babies breastfed at a lower rate than white babies?
According to the US Centers for Disease Control and Prevention's most recent figures, only 62% of black babies born in the US in 2010 started breastfeeding, compared to 79% of white babies. After six months, only 36% still breastfed, compared to 52% of white babies.
"When blacks came to this country they breastfed their babies and often their masters' babies," says Monique Sims-Harper, director of A More Excellent Way Health Improvement Organization and a spokeswoman for the California Breastfeeding Coalition.
After slavery ended, she says, black women often continued to work as wet nurses for white families.
"They were really the experts in the field," she says.
But with the advent of formula in the 1920s and 1930s, breastfeeding rates in the US dropped across the board. Later, as more evidence pointed to the health benefits of breast milk, white women resumed nursing at a higher rate.
"That information got to the higher-educated, higher-income population faster than it did to the African-American population," says Sims-Harper.
That African-American women are less likely to be well-educated and on average make less money than white women creates other problems.
"These are common barriers to breastfeeding because you can't access jobs where you might have a maternity leave, or can negotiate a private space to pump, or feel you are able to nurse at work," says Sims-Harper.
African-American women are also less likely to receive traditional healthcare services, so they don't always get a formal breastfeeding education.
These institutional barriers then create a knowledge gap, as black women who want to try breastfeeding are less likely than non-black women to have sisters, mothers or friends who can offer their own experience and advice.
"In the African-American community, because our rates are so low, we don't see breastfeeding," says Dalvery Blackwell, the co-founder of the African American Breastfeeding Network of Milwaukee.
That doesn't mean, however, that black women don't breastfeed. The Facebook group where graduate Karlesha Thurman sent her picture was established to support black women who do nurse.
Black Women Do Breastfeed says it solicits stories and pictures of nursing mothers specifically because the national conversation about black women and breastfeeding "tends to miss the fact that there are many black women who have breastfed and currently do breastfeed their babies".
Related Internet Links
The BBC is not responsible for the content of external sites.