Caption Challenge: Liquid football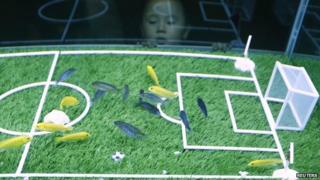 Winning entries in the Caption Challenge.
The competition is now closed.
The week, a child watches fish swim over a miniature football pitch at the Shanghai Ocean Aquarium.
Thanks to all who entered. The prize of a small amount of kudos to the following:
6. Cody:
Fifa award 2026 World Cup to Atlantis.
5. Steve Gilbert:
Time to send on the sub.
4. Pete Stevenson:
"Who's going in the nets?"
3. Comeinski:
"Well, Gary, to be frank, I'd say these lads are likely to end up getting battered."
2. Darren Clarke:
"Shoooaaaaaaaal!"
1. Mark Shanahan:
New Qatari plan will ensure cool temperatures for all in 2022 World Cup.
Full rules can be seen here
[16KB]
Follow @BBCNewsMagazine on Twitter and on Facebook