Small Data: Saving yourself for the World Cup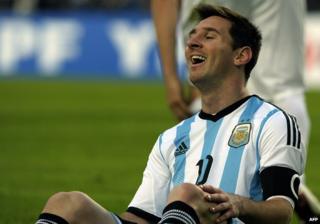 Attempts to predict the World Cup winners using statistics are coming thick and fast, writes Anthony Reuben.
I was interested to hear Gary Lineker's reasons for tipping Argentina to win the World Cup. The BBC presenter said he had a feeling that Argentina star Lionel Messi had been "saving himself for this tournament".
"He's been running about a mile or two less each game that he's played - statistics show that. Even then he was still scoring a goal a game".
Now, I can't find the source of this statistic, but it seems like quite a charitable interpretation. I don't want to start comparing myself to one of the greatest players ever to kick a ball, but if I ran one or two miles less than usual while playing five-a-side (which, incidentally, would take my running down to no miles at all) my teammates would conclude that I was a lazy blighter, not that I was saving myself for the World Cup.
It seems there's one rule for superstar football geniuses and one for the rest of us.
It's not just Gary Lineker who has been using statistics to try to predict the outcome of the World Cup.
Professor Stephen Hawking did some work for a bookmaker, saying that a theoretical physicist was likely to be marginally more accurate than Paul the octopus, the all-seeing cephalopod from the 2010 World Cup.
He put Brazil as favourites and also, after analysing results from previous World Cups, advised that if England are to succeed in the tournament they should wear red, use a 4-3-3 formation, kick off as close to 15:00 local time as possible and have European referees.
Using a more statistically rigorous method was Nate Silver. On his site, FiveThirtyEight, his Soccer Power Index gave Brazil a 46% chance of winning, which was well ahead of Argentina's 13%, Germany's 11% and Spain's 8%.
Silver reckons the bookmakers have not made Brazil favourites by a wide enough margin, having failed to give enough weight to home advantage - Brazil have not lost a competitive match at home since 1975.
The model looks at both how a national team has performed recently and how its top players have been performing for their clubs. So no room to take account of people "saving themselves" for the World Cup there.
Subscribe to the BBC News Magazine's email newsletter to get articles sent to your inbox.