Caption Challenge: Pasty chef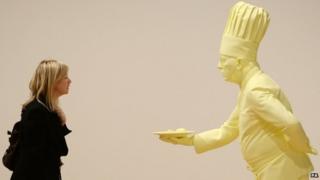 Winning entries in the Caption Challenge.
The competition is now closed.
This week a visitor looks at a sculpture in the Hayward Gallery, London.
Thanks to all who entered. The prize of a small amount of kudos to the following:
6. Winny:
"Nice chouxs."
5. Tony Auffret:
"Are you sure you are Raymond Blanc?" "Yes, but I am having an off day."
4. rogueslr:
"By the way, have you met my son? He plays trombone for Lurpak."
3. IABP:
"I can't believe he's not butter," thought Marge.
2. Comeinski:
"Please sir, I want some Henry Moore."
1. SimonRooke:
Oh dear! Yet another baker who looked Mary Berry in the eyes.
Full rules can be seen here
[16KB]
Follow @BBCNewsMagazine on Twitter and on Facebook