Caption Challenge: Dog's dinner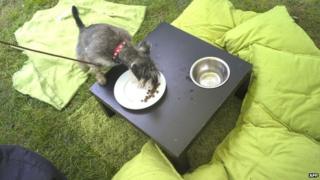 Winning entries in the Caption Challenge.
The competition is now closed.
This week a dog dines at a pop-up restaurant for canines in the Czech Republic.
Thanks to all who entered. The prize of a small amount of kudos to the following:
6. Chris Folan
"Waiter - there's no fly in my soup."
5. Ben:
"The food's ok but I prefer the place where I get to eat spaghetti with that nice looking posh dog."
4. Catherine O:
"Toto, I've a feeling we're not in Kansas any more."
3. IABP:
"Can you put the left-overs in a humanity bag, please?"
2. John Dixon:
Whine list please.
1. Dave Regan:
"Excuse me waiter, can you tell me the way to the tree?"
Full rules can be seen here
[16KB]
Follow @BBCNewsMagazine on Twitter and on Facebook