Victorian Strangeness: Strange tale of the 4 July firework disaster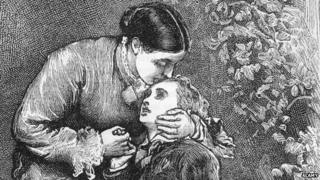 Author Jeremy Clay recounts an extraordinary 19th Century effort at a complicated medical procedure.
He should have known better, even at such a tender age. Stuffing his pocket with firecrackers wasn't a smart idea. Wandering through giddy crowds who were setting off rockets willy-nilly made it worse. But pulling out those firecrackers with a hand holding a lit fuse… well, that was just asking for trouble.
He got it, too. On 4 July 1894, as Montclair in New Jersey celebrated Independence Day, those firecrackers ignited in a riot of red, white and blue flashes.
And at another time, in another place, that may have been where the story of Frederick Griffith came to an abrupt, untimely end, with a few cheerless lines in his local paper detailing his ghastly last moments.
But Freddie's doctor had other ideas.
When Dr Case rushed to the scene, he feared the boy was a goner. But Freddie was made of sterner stuff. And as he clung to life, an ambitious plan began to form in the medic's mind - a skin-grafting venture on an epic scale.
What followed, according to a report in the Gloucester Citizen, was possibly "the strangest contribution made by one set of human beings to another in the whole history of altruism".
Freddie's mum was the first to volunteer. Mrs Griffith - a "handsome, well developed woman," according to one report - offered 100 pinhead-sized pieces of skin from her quivering arm to be grafted on to her 12-year-old son. His dad - the paper neglected to tell its readers about his looks or comment on the wobbliness of his limbs - went next.
And as word spread, the townsfolk of Montclair arrived to make their own donations. Walter Gibson gave 175 pieces of skin; Milton Gibson, 250; John Drake and Frederick Ranney, 300 each. And still more came: Shellman Stewart, Langdon Howes, Murray Sanders, Robert Henning, Albert Wallace.
On and on and on it went, a burst of communal kind-heartedness so uplifting it makes the final frames of It's A Wonderful Life seem like they skimped on good cheer.
All the while, Dr Case kept tally, totting up the number of grafts on the wallpaper by the boy's bed, When reporters arrived at Freddie's house that November, the score had reached almost 1,800 and it was hard to tell precisely where the boy ended and the town began.
"By next February," added the Citizen, "the doctors hope to have entirely completed the upholstering of the little patient."
Until then, the kid they called the Patchwork Boy was confined to bed, immobile but in good spirits, passing away the days reading, drawing and painting, propped up in the window of his front room, gazing out on the town that stitched him back together.
But as to his long-term fate, the newspapers are sadly silent.
Discover more about what life was like in Victorian times and 10 truly bizarre Victorian deaths
Subscribe to the BBC News Magazine's email newsletter to get articles sent to your inbox.
Illustrated Police News image provided by The British Library Board.