Are coin-locks on supermarket trolleys a bad idea?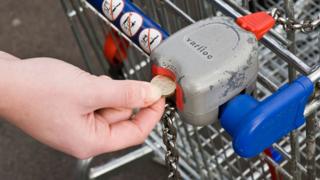 The supermarket chain Morrisons says it will be removing the locks from 150,000 coin-activated shopping trolleys nationwide. Is this a good idea, and how does it affect businesses, asks Chris Stokel-Walker.
It's a moment many shoppers know well - arriving at a long row of tethered shopping trolleys to discover you're lacking a pound coin to release a cart from the chain.
Scrabbling around in cars and searching through wallets and purses for spare change is something few of us can afford in our time-pressed lives, says Morrisons' chief executive Dalton Philips. The retailer is to remove locks on trolleys at 279 of its shops. It points to its own research which shows that 43% of customers think the locks are inconvenient. A quarter of those the supermarket surveyed had a handful of coppers, or a £5 note, when what they needed was a £1 coin to borrow a trolley.
But locks will remain on trolleys used in shops on hillsides, for fear of runaway carts escaping at speed (if not necessarily in a straight line) and in city centre stores, where most trolley thefts take place. Supermarkets suffer a lot of thefts - 1.5 million are removed from shops every year, according to Trolleywise, a company that retrieves around a third of all misplaced trolleys.
"Losses can depend on the demographics of each area," says Stewart Turner of Trolleywise. Until its recent decision Morrisons had placed locks on all its trolleys, but other retailers pick and choose in which areas to install locks, focusing on city centres and areas of high crime. Trolleys can cost £80 each, so the financial cost of replacing those mislaid, "borrowed" or stolen can be high.
Coin locks are "a very good management tool, encouraging people to put trolleys in central bases rather than left in car parks, and a decent deterrent to thieves", says Turner.
As to whether removing the coin locks will have a negative effect on areas near supermarkets, he's less sure: "Some stores may experience a higher loss, but there's often no rhyme or reason to it."
Subscribe to the BBC News Magazine's email newsletter to get articles sent to your inbox.