Small Data: Are there four billion Tour de France viewers?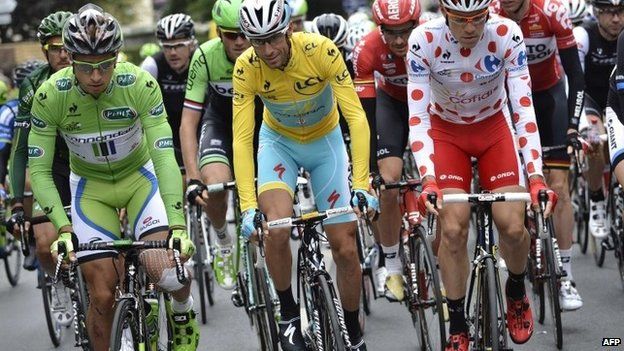 The global sporting events just keep coming this summer, writes Anthony Reuben.
Even if British competitors aren't doing terribly well in them, plenty of folk still want to watch.
But there must be a limit, which is why I was surprised to see a spokesman from Le Coq Sportif, the company that makes the famous yellow jerseys for the Tour de France, claim on the BBC News website that the cycling event would be watched by a global television audience of four billion people.
That figure is a touch higher than the 3.5 billion figure for 2013 that features on the facts and figures page of the Yorkshire Grand Depart website. Does half of the world's population really watch le Tour?
In the number's favour, we're not talking about half the world's population watching at the same time - this is a three-week event.
The Tour's organisers have so far declined to give me the source of the 3.5 billion figure, but I do have KantarSport's report to Fifa on the global audience for the 2010 World Cup.
It looked at 17 countries and extrapolated from there. It found that 2.2 billion people had watched at least 20 consecutive minutes of coverage while 3.2 billion had watched at least one minute.
While more than three quarters of the population had watched the tournament in countries such as the UK, Spain, Japan and Brazil, fewer than a third had watched in China and India.
And this is the problem - if you can't get a decent proportion in India and China, you need a lot of the rest of the world to get to four billion.
My colleagues in BBC audience research tell me that in the UK, 8.8 million people watched the tour on ITV for at least 15 minutes in 2012, 6.5 million watched it in 2013, and that with the event starting in Yorkshire, 10.7 million have watched it so far this year.
So in 2013, which was the year that half of the world's population supposedly watched the tour, only 10% of the population of the UK, home of the race's eventual winner, watched it (although that does exclude viewers on Eurosport).
I admit I haven't managed to get to the source of the 3.5 billion figure, or indeed the 4 billion, but unless bicycle racing is remarkably popular in India, China, Russia and the USA, both seem unlikely.
Even the sponsors seem unclear, with this press release from Skoda saying that "only" 1.4 billion viewers watched the event in 2013.