When adult actors play teenagers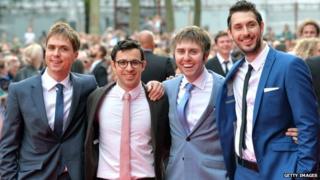 Following the release of their second movie, the Inbetweeners have said this will be their last outing as a group. With a combined age of 114, could they have continued playing teenagers any longer, asks Harry Low.
There are plenty of examples of actors portraying characters much younger than themselves.
Olivia Newton-John played teenager Sandy Olsson in Grease at the age of 29, while Stockard Channing played Rizzo despite being 33. Tobey Maguire, aka Peter Parker, was a mid-20s Spider-Man. Charisma Carpenter was 27 when she was Cordelia in Buffy the Vampire Slayer.
Blake Harrison, 29, who plays Neil in the Inbetweeners, has explained why it is no longer feasible for one of the most popular sitcoms of recent years to continue.
"The humour comes from their naivety and ignorance towards the world and as soon as you start placing that naivety and ignorance into people in their 20s and 30s, it becomes a bit more offensive and less funny."
Perhaps one of the most famous examples of "acting down" is Sally Thomsett, who played Phyllis in the Railway Children. She was 20 when her character was just 11. "That's a large age gap because a lot happens between 11 and 20, you've got all your teenage years," she says. "It was easy for me because I knew what it was like to be 11 and I'd always played younger than myself. With those period clothes we wore, it didn't show any shape at all so it was perfect."
Thomsett says there were "pros and cons" but was sworn to secrecy on her true age for years. She was also prevented from drinking, smoking and driving during the period of filming.
Actor and screenwriter Alison Rose, says it is uncommon for directors to cast somebody in a younger role. "There is such a huge pool to choose from. Why would you choose somebody older? Sometimes you could change a character's age to suit the performer.
"You don't want the audience thinking they are not going to believe this. It's to do with credibility."
Subscribe to the BBC News Magazine's email newsletter to get articles sent to your inbox.