Who, what, why: What can and can't you put on headstones?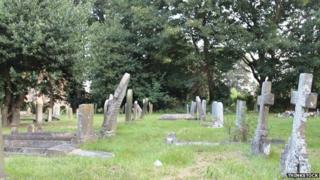 A priest has allegedly asked a grieving family to remove a headstone from a churchyard because of an "inappropriate" inscription. But what is and isn't allowed, asks Chris Stokel-Walker.
The headstone commemorating warehouseman Mike Howsley's grave at St Mary's Church in Bamber Bridge, Lancashire, had an inscription featuring the names of his wife and daughter and ending "Sleep tight Dad", all adorned with an "x" to represent kisses. But his family say the local parish priest asked for it to be removed.
"It's a major can of worms," says Darryl Jones, a member of the National Federation of Funeral Directors. "There is no actual hard and fast set rule," Jones explains, which creates disputes. "Some vicars make up their own rules," he adds, noting that this is not the first case of which he has heard. Last year the family of a maths-loving grandfather was asked by their local parish council to alter engravings on a headstone which depicted a half-filled Sudoku square.
"There's a bit of snobbery around this," continues Jones. "Vicars don't want kisses - they seem to think it can make the yard look distasteful. But vicars have no right to deny people the right to say what they want."
There is no central Catholic church policy on what can and can't be put on headstones, a spokesperson for the church in England and Wales says. The issue hasn't arisen before, with the small number of Catholic cemeteries making disputes such as this one rare.
Though the Church of England doesn't have centralised rules on what can be put on a headstone, its 42 dioceses each has their own set of churchyard regulations, which include guidance on the type of text permitted. The Diocese of Oxford, for example, says that "inscriptions must be simple, reverent and theologically acceptable; they may include appropriate quotations from the scriptures or literary sources." Nicknames or pet names are allowed, but in inverted commas.
For municipal burial grounds, the Department for Constitutional Affairs has outline guidance for cemetery managers, which covers "informal memorialisation" (such as soft toys placed on graves) but not what can be inscribed on a headstone. And the Local Authorities' Cemeteries Order of 1977 allows Church of England bishops the right to object to an inscription on memorials, but doesn't say on what grounds. The order does not cover non-Church of England cemeteries.
More generally, it seems likely that headstones would come under Public Order Act of 1986, which prohibits hate speech - those which feature racial or ethnic slurs are likely to be removed.
But beyond that the rules remain hazy.
Subscribe to the BBC News Magazine's email newsletter to get articles sent to your inbox.