Caption Challenge: Westminster Shauns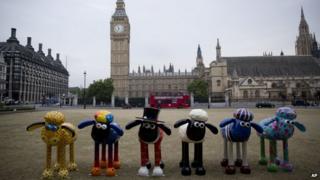 Winning entries in the Caption Competition.
The Caption Challenge is now closed.
This week sculptures of Shaun the Sheep stand on display in Parliament Square, London.
Thanks to all who entered. The prize of a small amount of kudos to the following:
6. Ian Carter:
"Shear, Shear!"
5. Phjil Harper:
House of Lords new woolsack down to last six contestants.
4. Adrian Wade:
The "Eat More Beef, Turkey and Pork Coalition" gets ready to lobby MPs.
3. Catherine O:
The neighs have it because we spent too long in the baa.
2. IABP:
"Could you all leap excitedly in the air holding your results."
1. John Ledbury:
"They may call it democracy, but make no mistake lads, it was definitely mint sauce."
Full rules can be seen here
[16KB]
Follow @BBCNewsMagazine on Twitter and on Facebook