Who what why: How much gold can we get from mobile phones?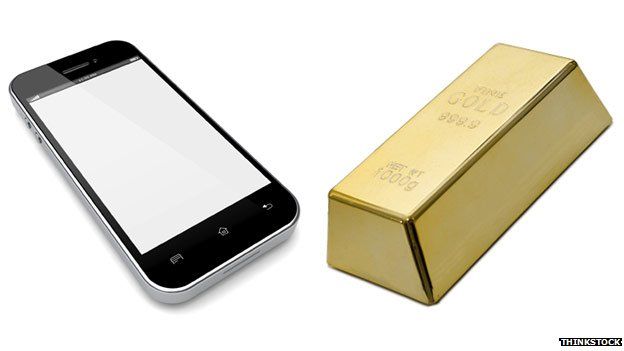 It's said that a bag of used mobile phones contains a gram of gold. There are a lot of mobile phones in the world, so how much of the gold we need can we get from them, asks William Kremer.
There be gold in them thar smartphones, said the European Commissioner for the Environment Janez Potocnik last month. He didn't use those exact words, but that was the general idea.
This seems to be largely correct, whether the commissioner was talking about an imperial ton, or a metric tonne (one is 1,016kg, the other 1,000kg).
In gold-rich ore deposits, there are concentrations of gold at one or two parts per million, says Dave Holwell, an economic geologist at the University of Leicester. That equates to 1g or 2g per tonne.
And the idea that 41 handsets contain 1g of gold stems from a UN report on electronic waste. Brussels-based technology company Umicore told the BBC you can actually get this amount of gold from just 35 phones.
To look at it another way, Umicore says a tonne of old phones (weighed without their batteries) yields about 300g of gold.
But the business case may not be as clear as the commissioner claims. At current gold prices, the amount in your handset is worth less than £1 ($1.67). While Umicore says extracting gold from phones is commercially viable, another company, London's Genuine Solutions Group, told the BBC it makes little or no money this way.
The wider point of Potocnik's speech was to promote what he called "the circular economy". "In essence we propose to make Europe a society without waste. To take the 600 million tons of materials contained in our waste and pump them back into productive use in the economy," he said.
Of course, you can recycle gold from a range of different products, but how far could we satisfy our appetite for gold from phones alone? According to Dave Holwell, about 2,700 tonnes of gold are produced every year from mining - about 7.4 tonnes per day. To get that from mobile phones we'd need to recycle 300m of them. And if we did that every day, the world's estimated seven billion mobile phones in active use would run out in 23 days.
Additional reporting by Keith Moore and Faizal Farook.