Caption Challenge: Mr Full Moon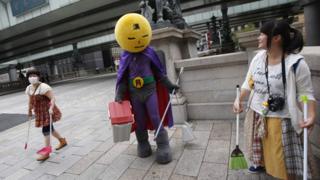 Winning entries in the Caption Challenge.
The competition is now closed.
This week an unidentified man, who calls himself Mangetsu-man (Mr Full Moon), cleans Nihonbashi bridge in Tokyo using a broom.
Thanks to all who entered. The prize of a small amount of kudos to the following:
6. Graham Bell:
"I fell asleep listening to yellow by Coldplay and the next thing I knew..."
5. Bramer:
He was caught daylighting as a cleaner.
4. Lin Vegas:
"Drop any more litter and you'll soon see my dark side."
3. Gareth Collins:
Filming of the new low-budget movie "Frank Sidebottom versus Godzilla" begins in Tokyo.
2. Matt:
"I'm hoping to make waves when I go out in this outfit".
1. Waldo:
Life in 2014 was not good for Pac-Man.
Full rules can be seen here
[16KB]
Follow @BBCNewsMagazine on Twitter and on Facebook