The art of cashing in on the royal baby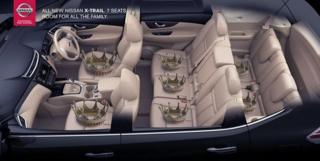 The announcement that the Duke and Duchess of Cambridge have a second baby on the way has been instantly greeted by a slew of advertising messages, writes Tom Heyden.
It didn't take long. Just seven minutes separated Clarence House's announcement of the duchess's latest pregnancy and Nissan cashing in on it with an advert featuring a crown on each of the seven car seats.
Soon other companies followed, from Innocent and WKD to the Post Office. It's brands trying ever so hard to be relevant.
There's a trend towards being spontaneous within the "social news room", says Marketing magazine's Nicola Kemp. "They're trying to ride on the tailcoats of any given piece of news."
But however you rate Nissan's marketing team, it's unlikely to have been conceived, made, approved and signed off - all in 420 seconds. Not without a Photoshop wizard and a team so well-oiled they work quicker than it took for that pun to sink in. "Brands do pre-empt things a lot more now," Kemp says. Maybe that's why Nissan advertised their seven-seater, wary of a curveball quadruplets announcement. Baby-related brands probably had this on their calendar - even without an exact date, says Kemp. Burble Baby plugs some princess plaques. Sports Direct implores you to "treat tiny toes well" with its baby shoes. The Post Office's "special delivery" pun is a bit of a stretch.
But many brands are just opportunistic. "For some sectors it is genuinely a really smart strategy but for others you just can't help thinking that perhaps their social media manager is a bit bored," says Kemp. There's an art to social media humour, though. "Brands are much more comfortable [now] in pointing fun at themselves," says Kemp. "It's being self-aware that you're capitalising on something but not taking yourself too seriously."
Even the naff jokes might get well shared, she admits. "You really have to have a reason for doing it," says Kemp, "whether that reason is having a joke, making people smile [or] being part of the conversation."
But before we get too cynical - it's not all about sales. Sometimes it's about safety, as with the London Fire Brigade's timely warning that they'll only rescue pregnant ladies like the duchess from lifts.
Subscribe to the BBC News Magazine's email newsletter to get articles sent to your inbox.