Caption Challenge: Major spectacle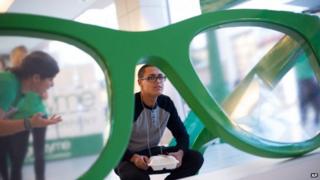 Winning entries in the Caption Challenge.
This week a man looks through a giant pair of glasses.
Thanks to all who entered. The prize of a small amount of kudos to the following:
6. Joshua Brown:
"Does my face look big in this?"
5. Jon:
The glasses are always greener on the other side.
4. Bernard Harper:
"I told you the 3D printer settings were wrong!"
3. Samantha Pegg:
"Just crouch there and stay very still and the giant Gok Wan will walk peacefully by."
2. Ian:
Google Glass: the early years.
1. Bramer:
Mr Gulliver is here to collect his prescription, sir.
Full rules can be seen here
[16KB]
Follow @BBCNewsMagazine on Twitter and on Facebook