Caption Challenge: We come in peace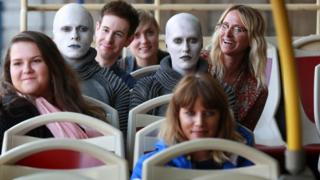 Winning entries in the Caption Challenge.
The competition is now closed.
This week actors dressed as aliens tour London to launch the new season of science fiction television series Defiance.
Thanks to all who entered. The prize of a small amount of kudos to the following:
6. Geoffrey Scott-Baker:
"No mate, this is the 143 bus to Clapham - the 49 goes to our leader."
5. Mike Monk:
Typical of London Transport. You wait ages for an alien and then two come along together.
4. Ian Stanley:
The new undercover ticket inspectors were quickly rumbled.
3. Russ:
"I think Mars is a request stop."
2. Ocean Lynagh:
First Contactless.
1. Robert Barker:
Nasa space programme announces new bus replacement service.
Full rules can be seen here
[16KB]
Follow @BBCNewsMagazine on Twitter and on Facebook