The toilet seat stadium and other unfortunate designs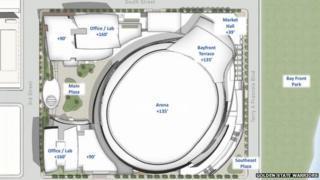 A basketball team's proposed stadium has been lampooned for looking like a toilet. It's not alone, writes Chris Stokel-Walker.
The Golden State Warriors are moving home. The "preliminary concept" for a new arena in San Francisco was released this week by design advisers Snøhetta. The plans have suffered some lampooning. Stuck on to the 135ft-tall circular arena is a squat, square terrace. Coloured a muddy cream in the architect's renders, some have pointed out its similarity to a toilet with the seat down.
The toilet-shaped arena may not materialise. Though Manica Architecture, the lead architect on the project, would not comment, PJ Johnston, a spokesman for the Golden State Warriors team, explains that: "All images to the project to date are preliminary concepts, which are being vetted as part of the master planning for the site."
The toilet-like arena is not the first architectural misstep in sport. The Al Wakrah stadium, designed by Zaha Hadid for the 2022 World Cup in Qatar, was widely said to resemble female genitalia. It's a claim Hadid strenuously denied. Her firm asserted that the Al Wakrah stadium was inspired by the design of the dhow, a traditional Arabian boat.
A small but committed section of fans - 75 in total - set up a Facebook group asserting that Ireland's Aviva rugby stadium "looks like a bed pan".
Sports stadiums pick up informal names from well-meaning fans based on their outward appearances. The low-slung circular sweep of the London Velopark, built for the London Olympics in 2012, is known locally as The Pringle because of its similarity to the potato snack. And while the Beijing National Stadium may not leap into most people's minds, the Bird's Nest, to give it its informal name, probably does.
Others are designed intentionally to look like something else. Taiwan's 55,000-seat National Stadium, designed by Japanese architect Toyo Ito, is powered by 8,844 solar panels coiled around the stadium and looking like a dragon. And in 2010, Turkish architects Sozuneri designed a stadium for football club Bursaspor, whose nickname is the Green Crocodiles, topped with a giant crocodile, its mouth open.
Andy Simons, director of KSS, a sports architecture company, says that stadium designs can be difficult. "Stadia fall into two types, the ordinary and the iconic. Few are really memorable for their architectural styling," he explains. "Essentially all club football stadia have the same bulk and so the individual style is dependent on the 'wrap'."
Responding to the mockery, the Golden State Warriors note: "We're still gathering feedback from the public, and we're still refining our ideas about the design." This version could still be flushed.
Subscribe to the BBC News Magazine's email newsletter to get articles sent to your inbox.