Caption Challenge: Surfer dog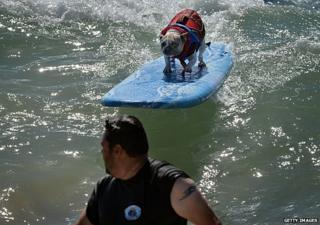 Winning entries in the Caption Challenge.
The competition is now closed.
This week, a dog rides a wave during the 6th Annual Surf Dog competition at Huntingdon Beach, California.
Thanks to all who entered. The prize of a small amount of kudos to the following:
6. Jonathan B:
After hours of desperate searching it now seemed clear that floating lamp posts did not in fact exist.
5. Megan-Zo:
Surf board thief collared.
4. Robert Barker:
"If you fall off, try doggie paddle."
3. Gareth:
Oh I do hope he doesn't get into kite surfing.
2. Graz Valentine:
Hawaii Fido.
1. Scott:
He's a boarder collie.
Full rules can be seen here
[16KB]
Follow @BBCNewsMagazine on Twitter and on Facebook