Caption Challenge: Feel hungry punk?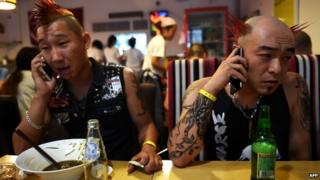 Winning entries in the Caption Challenge.
The competition is now closed.
This week punk band The Demonstrators make phone calls while having dinner before their performance at the Beijing Punk Festival.
Thanks to all who entered. The prize of a small amount of kudos to the following:
6. Dom:
"No, my mohican is not getting any signal - how are your spikes?"
5. Bramer:
"I'd like to order an English takeaway."
4. Bailey:
"Never mind the bollocks - I ordered the tofu."
3. Peter Brown:
"They might be on to us... try to act inconspicuous."
2. Robert Barker:
"Look I'm sorry but this idea of sharing the wig just isn't working."
1. Robin Farmer:
"Hello? Hello? Is that the 1970's?"
Full rules can be seen here
[16KB]
Follow @BBCNewsMagazine on Twitter and on Facebook