Weekendish: The best of the week's reads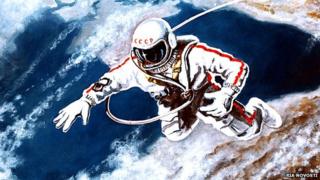 A collection of some of the best reads from the BBC News website this week, with an injection of your comments.
If you are scared of flying, look away now. This week we enjoyed the almost unbelievable story of the first spacewalk. Alexei Leonov was rigorously trained before being fired into space. But not everything went to plan. Once drifting in outer space his suit inflated, hampering efforts to get back inside the craft. There could easily have been an explosion on board and when they finally managed to return to Earth the cosmonauts landed hundreds of kilometres off target in Siberia. This immersive read has brilliant pictures and perilous details from an historical trip. On Facebook David Jones says he has "a lot of respect for Nasa, but the Russian program definitely adds a powerful WOW factor". Dan Buckheit says "It was space exploration… it was supposed to be dangerous".
The First Spacewalk: Moments from disaster
Boxful of memories
Joseph Hardman was a photographer whose pictures capture everyday life in the Lake District between the 1930s and 1960s. Now his work is being used to help people from the area with dementia. It's thought the familiar scenes depicted may unearth memories, old songs and even the ability to write shorthand. Tom Heyden's piece describes how reminiscence therapy plays an increasing role in care for dementia sufferers.
On Twitter Dylan Murray recalls how his grandfather, who had Alzheimer's, "couldn't speak but would touch a photo of his beloved cat & Golden Retriever". Sue Stradling says "old photos are our family gold".
The old photos helping trigger memories in people with dementia
Loving the leftovers
Following his experiments with fasting and tapeworms, Dr Michael Mosley's latest investigation for the Magazine relates to pasta. He discovers that by letting it cool then reheating it you get a smaller blood sugar spike when you eat it.
On Twitter Katharine Poulter seemed less than impressed. She says "reheated pasta is just nasty. Boak! I don't care if it turns me into a supermodel o/night, that's 1 thing I won't do!"
Should people be eating more fat?
Is reheated pasta less fattening?
Two wheels good?
More than half the people living in Copenhagen commute on a bike. With more bikes than people, 400km of cycle lanes and specially-built bridges, it is described as one of the best place in the world to be a cyclist. But outside train stations and shops you may be confronted with a pile of parked bicycles. Is this a two-wheeled paradise or just "really infuriating"? Cycling makes many Copenhageners fit, but leaves plenty of others fuming.
Copenhagen's piles of bicycles
Where has Europe's rarest bird gone?
No-one knows where the slender-billed curlew has gone. The white and gold bird is the rarest in Europe, North Africa and the Middle East. A creature at home in bulrushes and reeds, it is feared there are as few as 50 left, or maybe even fewer. Between its Siberian breeding grounds and its wintering areas in the Mediterranean, Dr Jano Botond Kiss would sometimes see it in the Danube delta, in years gone by. But now the legendary Romanian conservationist fears he may never see it again.
Slender-billed curlew: Where has Europe's rarest bird gone?
Here are some things we've enjoyed this week from elsewhere around the web:
Why public Wi-Fi is a health hazard - Medium
Nightmare at the Picasso Museum - The Guardian
The Stradivarius Affair - Vanity Fair
Subscribe to the BBC News Magazine's email newsletter to get articles sent to your inbox.