Caption Challenge: You crazy arms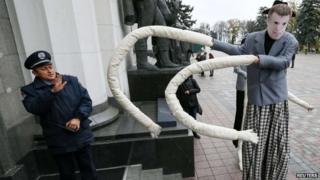 Winning entries in the Caption Challenge.
The competition is now closed.
This week a police officer outside Ukraine's parliament building in Kiev gestures to a demonstrator wearing a mask.
Thanks to all who entered. The prize of a small amount of kudos to the following:
6. JAMgirl_Iva:
Hands off.
5. Catherine del Campo:
Whose army?
4. Michael Newbold:
I like to keep people at arms' length.
3. Helene Parry:
Security guard finally gives in and admits Renee despite the subtle differences from her passport photo.
2. James Challinor:
I really don't need a hug. Honestly.
1. Keith McCallion:
The long arm of the law meets its match.
Full rules can be seen here
[16KB]
Follow @BBCNewsMagazine on Twitter and on Facebook