The family that saved 3,000 lives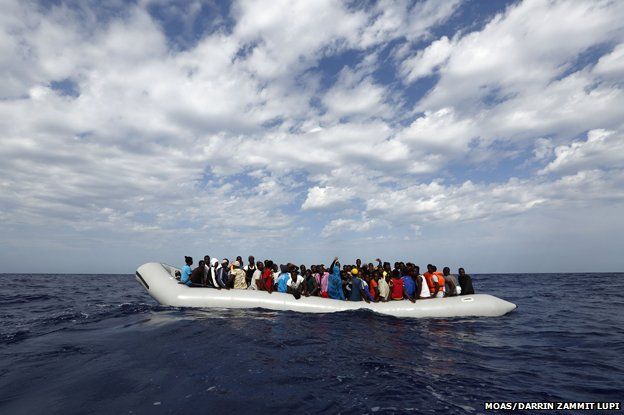 In August, the Magazine reported on a couple who spent millions of euros to save migrants in danger of drowning at sea. Their 60-day mission has now ended - so what did they achieve, asks Alison Gee?
"We helped to save around 3,000 men, women and children who would have otherwise been likely to perish," says Christopher Catrambone who - as we reported earlier - set up the Migrant Offshore Aid Station (MOAS) with his wife, Regina, and daughter, Maria Luisa.
"I was shocked by the sheer number of migrants that are packed into each boat. Some migrants are pushed into the low deck where they are more susceptible to drowning and suffocation. You don't understand what a horrific journey this is until you actually witness it that closely," Christopher says.
"I recall an elderly Palestinian who sold all his belongings for a measly $15,000 to fund his trip... I also recall a couple of Syrian grandparents who at the twilight of their lives had to leave their beloved Aleppo.
"It's difficult to comprehend the desperation that would have driven them to put their families on such a dangerous journey. And in a way these are the lucky ones. They are the ones who had the financial means to fund the trip... Many of them were professionals: teachers, engineers, lawyers."
MOAS helped transfer some migrants to Italian Navy and cargo ships - the rest were given shelter on board its own vessel, the Phoenix, and were taken to Italy.
For Regina, it was the children she'll remember most. "We received a donation of some toys... The smiles on their faces when we handed out the toys were priceless," she says.
"The children don't really know what is happening when they are on this journey. It's so nice to see a three-year-old girl laughing and dancing around when you're surrounded by so many adults who are so aware of their plight."
The number of migrants crossing the Mediterranean Sea has broken records this year - 165,000 at the start of October. At least 2,200 died between July and September, according to the UN refugee agency.
The Malta-based Catrambones spent two million euros (£1.59m) of their own money funding the mission. They are now trying to raise enough money to send the boat out again next year.
Related Internet Links
The BBC is not responsible for the content of external sites.