The ruminations of a 100-year-old M&S lifer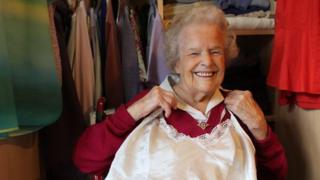 In its latest half-year results, Marks and Spencer's underlying profits edged up but clothing sales continued their decline. At the age of 100, M&S lifer Violet Butler looks back at how things have changed at the High Street staple.
She is decked out from head to toe in M&S. Violet Butler, now 100, has spent much of her life either working or shopping at the UK High Street store.
"In 1938, when I got married, I took a part-time job." She and her husband needed the money. "So then I went on to full-time and became a supervisor." She retired in 1965 but has remained a loyal M&S customer. In all she reckons she's been shopping at M&S for 80 years. So what can she tell people about how this bellwether of UK retailing has changed?
Not everything is to her taste today. "Their briefs they sell three in a packet. I'd rather buy them separately because they're more fitted," she says. She isn't alone in criticising the clothing lines. While its food ranges thrive, M&S has lost its role as reputation as the UK's unofficial outfitter. It has just reported its 13th consecutive quarterly drop in clothing sales.
"I really think that the last few years have been dreary," Butler says. "I just think they want to remember that there's all ages really. The middle-aged people, [in their] 40s and 50s, they've all got money to spend. They want a selection of dresses and things that are well designed, [that] they can rely on, can wash them without anything happening, and the finishes, the buttons are still on."
Marks and Spencer stores are very different now. When she started work they had "lovely brass tills". The transactions weren't automatically calculated. "People used their heads a bit. You had to ring the money up, give the change." If you were on the cake counter you had to cut it for the customer. It required a good eye. "Somebody said a pound, half a pound, you've got to get it near." Some things are immeasurably better today, she believes. "Their food is very, very good. I think it's presented nicely, it's [a] selection for all tastes."
She's hopeful about the future of M&S. "I think it's changed for the better in lots of things. They're coming up [again], they're waking up." But the true test comes at Christmas. "That will tell you whether you're doing well or not."
Violet Butler was interviewed on BBC Radio 4's You & Yours. To listen to the interview, click here
Subscribe to the BBC News Magazine's email newsletter to get articles sent to your inbox.