Weekendish: The best of the week's reads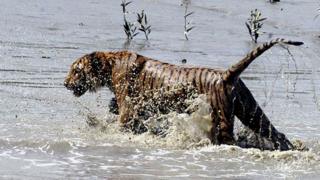 A collection of some of the best reads from the BBC News website this week.
What would you do if you came face to face with a tiger? Just a mention of the word is enough to strike fear into the people of the northern shore of the Bay of Bengal. Up to 60 people are attacked there each year and only half survive. There is hardly a person there whose life hasn't been touched by a tiger in some way. Working in the forest, Jamal Mohumad is cautious. He is a local legend in the Sundarbans for surviving three separate tiger attacks. He's been clawed into rivers and had to roar until his throat bled. Luckily he has managed to escape or scare the tiger away. Many are less fortunate. It is thought the attacks are the result of people encroaching on tiger territory. "Tiger village response teams" have been set up to deal humanely with those straying into villages. But bearing many scars, the residents find it hard to believe such a ferocious animal could ever be endangered.
Face to face with a man-eating tiger
Lost youth
The scale of British war effort in World War One was marked this week on BBC News Online with a graphic, showing the scale of British war effort in World War One. A stand-out figure is The number of men who had enlisted by 1918 - 4,970,902. What it doesn't show, however, is how many of those who had enlisted were boys, rather than men. On Tuesday - Armistice Day - Fergal Keane remembered the sacrifice that as many as 250,000 boys under the age of 18 made. Their motives varied. Many were gripped by patriotic fervour, sought escape from grim conditions at home or wanted adventure. Keane delves into a few stories. One features 17-year-old France Aby, who, suffering from shellshock, deserted. This is what he wrote to his mother: "Dear mother, I'm in the trenches and I was ill so I went out, and they took me to the prison and I'm in a bit of trouble now." Shortly after, he was executed.
The teenage soldiers of World War One
Ultimate sacrifice
The war effort graphic also records these stark figures - 908,375 British deaths, 1,808,545 German, between 1914 and 1918. It's a popular belief that the slaughter of WW1 led millions to turn away from religion. But according to author Frank Cottrell Boyce, writing in the Magazine on Monday, this is wrong. Exploring the impact of the war on religious belief and practice on the military front and at home, he cites an example from The Young Crescent - a monthly magazine from the Crescent Congregationalist Church in Liverpool - which ran right through the war, bringing news from the Front. It featured a group of young men who enjoyed one last Lancashire walking holiday before going off to war. "They invented their own ritual - a kind of confectionery Eucharist - in which they all placed a biscuit on their tongues at the same time and thought of home, and of Christ," writes Cottrell Boyce. "There are letters in the magazine in which the boys fret about the time zones, wanting to make sure they really were performing this ritual at the same time."
Viewpoint: Why God was not killed by the Great War
Big numbers
More data graphics - on Wednesday, Paul Kerley put together a visual feast of data maps of London, revealing a city heaving with information. For example, how many singletons are there, and in which areas do they tend to congregate? Or which of the London football clubs were the most popular on Twitter during the 2013/14 season? You think you know London well? When you see these data portraits, you'll realise there is much, much more to explore.
12 data maps that sum up London
From Ruislip with love
The London suburb of Ruislip was the unlikely backdrop for Vincent Dowd's story of a normal middle class family in the 1960s who discovered that their friendly neighbours were actually KGB spies. Peter and Helen Kroger lived opposite Bill and Ruth Search. Ruth and Helen struck up a close friendship, having tea, gossiping about ordinary everyday things. But one day Special Branch called on the Searches. Peter and Helen were in fact Morris and Lona Cohen, and were part of a conspiracy to leak British military secrets to Moscow. British intelligence persuaded the Searches to allow them to spy on the Krogers from their upstairs window. Bill and Ruth's teenage daughter Gay (who incidentally went on to present the TV programme Gardeners' World), takes up the story.
The spies in a suburban bungalow
Ched Evans debate
The Ched Evans debate is one that isn't going away any time soon. This week Sheffield United invited the footballer - recently released from prison after serving time for a rape conviction - to take part in training at the club. It has faced strong criticism as a result. The club says it had agreed to a request from the Professional Footballers' Association - which takes the view that that footballers should be treated equally before the law, in terms of being allowed to be rehabilitated - to let Evans train. On Thursday, Tom de Castella looked at the question of whether rapists should be treated differently from other former offenders after they leave jail.
What should happen to a released rapist?
Here are some things we've enjoyed this week from elsewhere around the web:
The places that still have pay phones - City Lab
Loads of UK rock bands still have day jobs - Vice
20 years of anti-sartorial trends - Slate
Why cats never became man's best friend - Quartz
Subscribe to the BBC News Magazine's email newsletter to get articles sent to your inbox