Why Nick Drake is not the patron saint of the miserable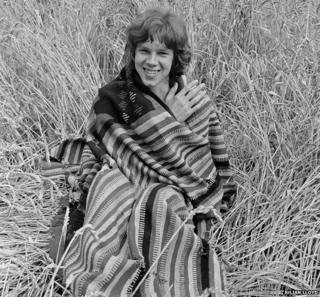 Nick Drake, the singer-songwriter who died 40 years ago, was not recognised in his lifetime. But his melancholy legend does his music a disservice, argues Alan Connor
"It may surprise you to hear that during the last few weeks, I've been extraordinarily happy with life and I haven't a clue why. It seems that Cambridge can in fact do rather nice things to one if one lets it, and I'm not sure that I did let it before."
So began a letter Nick Drake sent home from university in the late 1960s. It might also surprise anyone who has heard the Nick Drake legend.
In that legend, Drake is the consummate image of the troubled troubadour. He avoided interviews and wouldn't release singles. He found live performances unbearable because of audience chatter. Most of all, he overdosed aged 26 leaving behind just three albums.
Not for nothing is the abiding image of Drake a photograph included in the Five Leaves Left LP - a solitary figure frozen as passers by pass him by in a blur. Too beautiful, they often say of him, for this world.
Knowing the legend, it is almost impossible to listen to Drake's music for the first time without hearing it as the melancholy expression of a tortured soul. Almost impossible, but not quite.
Drake was undoubtedly given to introspection and later afflicted with depression. His story had other chapters, of popularity and happiness. He was the captain of various games at school, and head boy of his first house at Marlborough.
Pleasingly, he also turned down Chris de Burgh when the younger boy asked to join Drake's schoolboy rock group The Perfumed Gardeners.
When he began recording solo as a Cambridge undergraduate, his aim was certainly not to be an unrecognised downbeat outsider. "He had this feeling that he'd got something to say to the people of his own generation," his mother remembered. "He felt he could make them happier."
His first album, the pastoral Five Leaves Left, correspondingly begins with the lines: "Time has told me you're a rare, rare find / A troubled cure for a troubled mind".
The second, Bryter Layter, is purposefully upbeat and the last, Pink Moon, ends: "So look, see the sights, the endless summer nights / And go play the game that you learned from the morning". This is music of comfort, not of despair - rebirth, not death.
Neither are Drake's most popular songs ones of anguish. Those most frequently played in bars, cafes and restaurants are Northern Sky, One of these Things First and Pink Moon - the one used in a 1999 ad for the Volkswagen Cabriolet.
For the anniversary of Drake's death, his sister Gabrielle has compiled a book which she hopes will "get the story straight". She feels that the received wisdom about his life is full of "trite answers - that he came from a stuffy, upper-middle-class background, nobody understood him".
She is not alone in wanting to remember a Nick Drake whose life and music are not defined by misery. Robert Kirby met Drake when they both auditioned for the Cambridge Footlights and went on to write the arrangements for many of his songs. "Nick seems to have become the patron saint of the depressed," he told a fan site.
"The danger is that when fans take on this intensely personal relationship, they can want to be the only ones to own the experience... Apart from his last year I can assure you that he did have many crazy, happy spells."
Without those happy spells, Drake's music could not have provided the succour that so many find - which, in turn, has provided comfort to his family.
"A lot of young people find his music such a help," Gabrielle said in a 2000 documentary. "And that, I think, would have pleased him so very, very much."
Subscribe to the BBC News Magazine's email newsletter to get articles sent to your inbox.