Weekendish: The best of the week's reads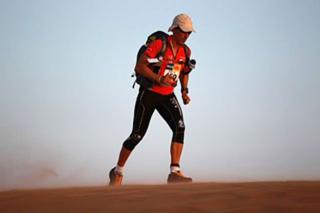 A collection of some of the best reads from the BBC News website this week.
Mauro Prosperi was bewitched by the desert, but he got more than he bargained for when he took part in a race across the Sahara 20 years ago. When the former Olympic pentathlete was running in the 250km (155-mile) Marathon des Sables he was caught in a sandstorm and couldn't find his way back to the course. Prosperi was lost in the desert for 10 days and had to cook with his urine and drink bat blood to survive - in less than two weeks he lost 35lb (16kg) and it took him two years to fully recover. Surprisingly, he hasn't been able to get the desert out of his system: "Desert fever does exist, and it's a disease that I've absolutely caught. I'm drawn back to the desert every year to greet it, to experience it," he says.
Here he tells his amazing story of survival.
How I drank urine and bat blood to survive
Preacher mystery
She was glamorous and beautiful - a "spell-binding speaker", whose elaborate stage performances in 1920s America drew a large and enraptured fanbase. But Aimee Semple McPherson was not a Hollywood actress - she was an evangelical preacher who used extravagant theatrical techniques to teach the gospel. And yet one dramatic event of her life remains unexplained - where did she disappear to in May 1926, and was the reason she gave for her mysterious absence really credible?
The mysterious disappearance of a celebrity preacher
A brick too far
When some people think of childhood imagination, they think Lego. But now some critics say the toy has become less creative, with too many specialised pieces and instruction manuals. It used to be a simple set of a few blocks which relied on you to conjure a design. But now there are around 3,000 different pieces - a Lego croissant being a recent addition. Many argue that sets with detailed instructions, first introduced in 1964, are preventing the "creative destruction" of making something from scratch to your own specifications. But some say the masses of new pieces inspire further invention.
Has the imagination disappeared from Lego?
Foreign fields
If asked to name key locations from World War One, the usual battle-weary answers of the Somme, Ypres and Passchendaele are often given. The BBC's Deborah Basckin looks at some of the lesser-known places which played a significant role in the war. Togo in West Africa is where, arguably, some of the first shots were fired, Germany attempted to get Mexico to join the war on its side and Malta earned the nickname the Nurse of the Mediterranean for treating more than 100,000 casualties. What part did Tanzania (pictured) and other locations play?
Six unexpected WW1 battlegrounds
Intrigue in Persia
"Romieu has the reputation of being a man of talents… and of being a great proficient in the science of intrigue."
So reads a letter sent in 1805 by a British ambassador to a colleague stationed in Baghdad. The mysterious individual who had so piqued the interest of British government officials was Antoine-Alexandre Romieu - a French adventurer and emissary, who had been sent by Napoleon himself to secure an alliance with the Shah of Persia. As Romieu headed east, the British became more and more anxious. It was a time of international conflict - a Napoleonic war was raging. How were they to deal with the threat of a potentially dangerous alliance?
Monsieur Romieu - a 'man of talents'
Here are some things we've enjoyed this week from elsewhere around the web:
Ebola and the Aid Industrial Complex - Ebola Diaries
To anyone struggling with addiction, just hang on - Pete Doherty, Independent
The man who made Tetris - Vice
The game whose eerie allure will never be put to rest - Telegraph
Subscribe to the BBC News Magazine's email newsletter to get articles sent to your inbox