Weekendish: The best of the week's reads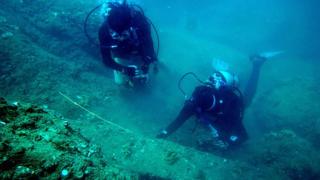 A collection of some of the best reads from the BBC News website this week.
The coast of central Vietnam is typhoon territory - it's also unusually rich in shipwrecks. And where there are wrecks, there's most likely treasure. In these waters, the treasure in question is antique Chinese ceramics. For more than 2,000 years, merchants journeyed through these waters en route to the spice islands - the Moluccas, east of Borneo - and from there to China. From the 10th Century onwards they would return with some of the finest ceramics available at the time. But not all of it would make it back - 1,000 wrecks are estimated to lie at the bottom of the sea. In 1991, shortly after the communist country opened up to the outside world, a 17th Century vessel was commercially excavated - 48,000 pieces of ceramic were retrieved, a hoard fetching £4.7m ($7.3m). There is believed to be much, much more down there. But how much should be excavated? How far should Vietnam collaborate with commercial treasure hunters? How much should be documented by archaeologists and then returned to its watery grave? And how to stop the tourist trade in antiques snatched from the deep by free-diving fishermen?
The sins of my brother
The Colombian drugs trafficker Pablo Escobar was once the seventh richest man on the planet, controlling 80% of the global cocaine trade. He and his Medellin cartel were also responsible for thousands of murders - a fact his sister says she only gradually became aware of. In fact, Luz Maria Escobar says she had to look the word "mafia" up in the dictionary when Pablo actually told her what he did for a living. She now visits the graves of Escobar's victims, and leaves notes, begging their forgiveness. But it's not always welcome. One victim's relative says: "I think it's a good thing after all the damage her brother caused. But if one of those notes appeared on my brother's grave, I'd probably throw it in the bin, because just an apology isn't enough. It's a question of justice."
Atoning for the sins of a brother
Funny flotsam
For the past few years, 100-year-old rubber-like blocks from Indonesia have been mysteriously appearing on beaches in the UK and northern Europe. The Titanic was suggested as one of the possible sources - but as Mario Cacciottolo discovered in his article on Monday, it now appears that they may have washed up from a Japanese liner, the Mayazaki Maru, which was sunk by a German submarine near the Isles of Scilly in 1917. It's the second time Mario has written about flotsam for the Magazine, the first being his piece about Lego pieces washing up on the Cornish coast. No doubt he'll soon be combing beaches in search of material for his next piece...
The mystery of the Tjipetir blocks
Dictators' dinners
Hitler and Gaddafi both suffered from flatulence, and Mussolini once became "dangerously" constipated during World War Two. Perhaps it was these digestive quirks that accounted for some of their unusual eating preferences, as recorded in a new book. From odd table manners to strange food choices, the proclivities of the worst tyrants of the 20th Century are revealed, as authors Victoria Clark and Melissa Scott recount some extraordinary tales from the world's most despotic dining tables.
What do dictators like to eat?
The other Cromwell
The sitter is a lady, dressed in a dark, formal gown. She stares out at the artist with an impenetrable expression. Around her throat, a cluster of pearls proclaims her as a person of substantial means. But who is the mysterious 17th Century model? In her day, she inspired in one of England's most controversial leaders an apparently lifelong devotion, yet her critics derided her simple ways, and felt she was out of place in her elevated role. Now, Elizabeth Cromwell is barely remembered - overshadowed in popular culture by her husband Oliver. So what was the real story of the woman whom Oliver Cromwell described as "dearer to [him] than any creature"?
The mystery of Oliver Cromwell's 'queen'
Ashes to ashes
CJ's ashes have been scattered literally all over the world - 100 countries, and have even been taken into space. The former member of the US Air Force who loved to travel and loved adventure died on 14 April 2010, when he was 20 years old. His ashes had been sitting on his mother Hallie Twomey's mantelpiece until last November when she was moved to give him a magnificent send off. She turned to social media and asked if anyone would be willing to scatter a small amount of her son's ashes in a place of their choosing. In the past year Hallie has been overwhelmed with takers. CJ's ashes have been scattered in Machu Picchu, Peru, on a tea plantation in Tamil Nadu, India, on sand dunes near Swakopmund in Namibia. They have been skydiving and scattered from a hot air balloon over Cappadocia, Turkey. Small packets are sent to participants, who are asked to take a picture and say a few words. "I ask them to let CJ know that we loved him," says Hallie. "And the thing I need people to do most for me is to tell CJ I'm sorry. Because I am - I feel I let my son down." But there is only a finite amount of ashes and Hallie has to be selective about where they go.
The man whose ashes are scattered in more than 100 countries
The serial sleuth
If you haven't heard of Serial yet, you've been missing a treat. For the uninitiated, the podcast crime series follows the harrowing true story of an investigation into the murder of high-school student Hae Min Lee in Baltimore County in 1999. Her 17-year-old ex-boyfriend Adnan Syed was sentenced to spend the rest of his life in prison. The case against him was largely based on the story of one witness, Adnan's friend Jay, who testified that he helped to bury Hae's body. Adnan has always maintained he had nothing to do with the murder. Did Adnan really commit the murder? In Serial, journalist and presenter Sarah Koenig re-investigates the case. But, as BBC Trending discovered, the series has inspired fans to start their own investigations, and to share these and their own hunches on social media sites, such as reddit.
Serial: Amateur sleuths trying to solve murder
Here are some things we've enjoyed this week from elsewhere around the web:
A day in the life of a bookie - Harry Vale
The new spectator sport: writing in a wrestling mask - PRI
Teaching Essay Writing in Pyongyang - Slate
Why China is now banning puns - Quartz
Aliens in the Valley - the complete history of Reddit - Mashable
Subscribe to the BBC News Magazine's email newsletter to get articles sent to your inbox