Caption Challenge: Pig of a journey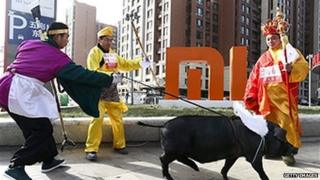 Winning entries in the Caption Challenge.
The competition is now closed.
This week three peasants wearing the costumes of Tang's Monk, Sun Wukong and Sand Monk, characters in Journey to the West, walk with a black pig.
Thanks to all who entered. The prize of a small amount of kudos to the following:
6. SkarloeyLine:
Following yonder sty.
5. Candace Sleeman:
"He's hardly a flight risk."
4. David Kempton:
Walkie Porky.
3. Big Greg:
Low-budget nativity unveils casting for three wise men and the donkey.
2. Adrian Bayling:
"So, why is she wearing a silk purse, and what happened to her left ear?"
1. Adrian Wade:
Pulled, Pork.
Subscribe to the BBC News Magazine's email newsletter to get articles sent to your inbox.