Caption Challenge: Light costume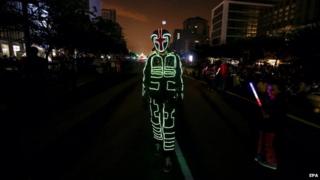 Winning entries in the Caption Challenge.
The competition is now closed.
Thanks to all who entered. The prize of a small amount of kudos to the following:
6: Andy Reed:
World's worst hide and seek costume revealed.
5. Martin Donnelly:
"The man in the shop assured Felipe it was anatomically correct, Lord Sugar."
4. Paul Austin:
All lit up with no place to glow.
3. Tony Auffret:
Darth Vader's Christmas onesie was not enough to fool the Jedi Knight.
2. Stephen Rodgers:
Neonderthal Man.
1. Judgement Dave:
The seventeen ninjas (left of picture) can't believe their colleague made such a basic error.
This week…Subscribe to the BBC News Magazine's email newsletter to get articles sent to your inbox.