Who, What, Why: Is it harder to run in the Sahara Desert or the North Pole?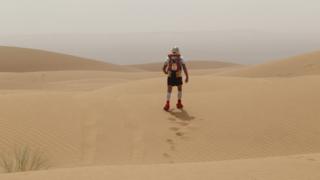 Polar explorer Sir Ranulph Fiennes is to run the Marathon des Sables in the Sahara Desert. What's the difference between hot and cold endurance tests, asks Tom de Castella.
He once sawed his fingertips off after a bad case of frostbite. But Sir Ranulph Fiennes' next foes are likely to be heatstroke and thirst.
In April he'll take on the Marathon des Sables to raise money for Marie Curie Cancer Care. A 156-mile (251 km) race through the Sahara Desert, it's the equivalent of running five and a half marathons in six days. It is often called the toughest footrace on earth. Competitors must carry all their gear, including a mirror in case they get lost in a sandstorm and anti-venom kit for the snakes and scorpions. There are water stations along the way but with temperatures reaching 50C competitors need to take their own supply as well.
Sir Ranulph is best known for icy challenges. He's the first person to reach both poles by surface means and the oldest Briton to reach the summit of Mount Everest.
So which is harder, hot or cold endurance tests?
Dr Andrew Murray, fellow of the Faculty of Sport and Exercise Medicine, has run both polar races and also the Marathon des Sables. In cold climes, every inch of the body needs to be covered to avoid frostbite. Hypothermia is a threat so spare clothes are necessary. Running in snow saps the energy and then there are dangers like crevasses at the South Pole or polar bears at the North Pole.
The desert is harder though, he says. In the cold you can always wear more clothes to run. "The human body is good at conserving heat. But it is very difficult to shed heat." Heatstroke (when the body goes above 40.6C), is a potential problem. There's the risk of dehydration - fast runners have to slow down to avoid losing more water than they can drink. And then there's the sand. "Blisters can make people's feet look like they've gone 10 rounds with a lawn mower."
Fiennes has had two heart attacks and had to abandon his 2013 attempt to cross Antarctica in the winter. But he is spurred on by his "numerical obsession" with raising £20m - he's currently on £16.8m. Exertion in the heat hits the elderly particularly hard, says Fiennes, who will be 71 by the time the race starts. If he finishes, he'll be oldest Briton to do so. An 80-year-old Frenchman is the oldest.
Fiennes expects not to be able to move by the end of the first day. "Physically I'm going to be a wreck pretty quickly." But these challenges are fought in the mind, he says. "There'll be a voice in my head saying I'll have a heart attack, I'll get hyperthermia, I've got a family, it's stupid to carry on. That sort of wimpish voice tries to appear logical, finding reasons for stopping. You have to fight it. I've had it so many times."
Subscribe to the BBC News Magazine's email newsletter to get articles sent to your inbox