Caption Challenge: Strings attached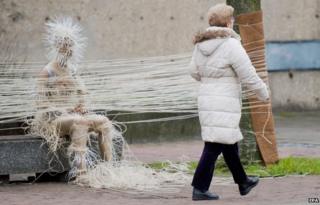 Winning entries in the Caption Challenge.
The competition is now closed.
This week it's a sculpture by artist Kerstin Schulz in Hanover, Germany.
Thanks to all who entered. The prize of a small amount of kudos to the following:
6. John Rigby:
"Are you all right, dear?" "No, I'm a frayed knot."
5. Siv Angel:
Brenda kept on walking. It was the last time anyone would string her along.
4. Paul Richardson:
"If you see Peter Parker, you can tell him we are so over."
3. Nigel Bryan:
After viewing the initial rushes, the team on the new Thunderbirds TV series suddenly realised that there was still a huge amount of work to do in post-production.
2. Martin Boniface:
"We are going to need an awful lot of Bolognese sauce."
1. Judgement Dave:
"It takes cunning and patience to catch a granny."
This week…Subscribe to the BBC News Magazine's email newsletter to get articles sent to your inbox.