Caption Challenge: Bear witness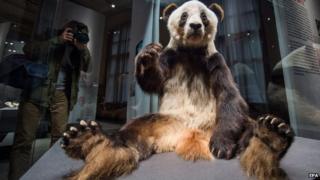 Winning entries in the Caption Challenge.
The competition is now closed.
This week a photographer takes a picture of the preserved remains of panda Yan Yan, formerly a resident of Berlin Zoo, at the city's Museum fur Naturkunde.
Thanks to all who entered. The prize of a small amount of kudos to the following:
6. Graham:
Here forever and not even a fig leaf.
5. Adrian Orrom:
"At least that bastard Hirst didn't get me..."
4. Andrew Williams:
"When I asked for a shoot I meant bamboo."
3. Alastair Worters:
I remember when Attenborough was only yay high...
2. Adrian Webster:
"I'm in here how long with David Blaine?"
1. Catherine O:
We think he was brushing his teeth when he died.
This week…Subscribe to the BBC News Magazine's email newsletter to get articles sent to your inbox.