Just how practical is a traditional Bobby's helmet?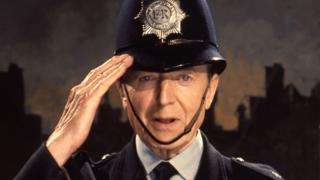 West Yorkshire Police have decided to end the use of the traditional police helmet for normal duties. Is this symbol of British law enforcement really so old-fashioned, asks Justin Parkinson.
Police helmets have been worn for more than 150 years in much of England and Wales, but West Yorkshire says peaked caps are "more appropriate and more in keeping" with many of the situations officers find themselves in the 21st Century. They are less likely to fall off heads, it is argued, and can be worn in a car.
A survey of West Yorkshire Police staff found an "overwhelming majority" wanted the wholesale change to caps, which is set to be rolled out over the course of this year. But they will be kept for ceremonial occasions such as Remembrance Day parades or funerals.
First used by the Metropolitan Police in 1863, the "custodian" helmet was based on the spiked Pickelhaube worn by the Prussian army. Stronger and more protective, it replaced the top hats that were formerly in use.
Originally made of cork covered by felt or serge-like materials, it is now manufactured in reinforced plastic. It is still worn by male constables and sergeants on most forces in England and Wales, which set their own policy on headgear for use on the beat. It is not used by police in Scotland or Northern Ireland.
The Home Office sets standard guidelines for protective head equipment for public order situations, such as riots. But have normal duties such as walking around town centres changed so much over recent years that the old-style helmet is obsolete?
"It's far more practical than people think," says one retired English police officer who does not wish to be named. He argues that it gives "presence", thanks to the sturdy metal badge on the front and the extra height it provides. Police helmets are also padded for extra warmth.
The custodian helmet has changed shape slightly over the years but maintained its basic shape. It has become a cultural icon, featuring in films and TV series, such as Dixon of Dock Green and The Bill. One was famously used to protect the "modesty" of Michael O'Brien, who streaked at Twickenham in 1974, and Erica Roe, who ran topless on to the rugby stadium's pitch in 1982.
From the 1930s to the 1960s, police in Brighton and Hove wore white helmets in the summer, as they kept the head cooler. This discontinued when they became part of Sussex Police.
Like West Yorkshire, Thames Valley Police did away with the custodian helmet almost five years ago. It's up to individual forces whether they want to do the same.
Subscribe to the BBC News Magazine's email newsletter to get articles sent to your inbox