Caption Challenge: Attending to Yoda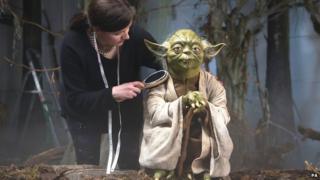 Winning entries in the Caption Challenge.
The Caption Challenge is now closed.
There is still no prize, except the traditional small quantity of kudos.
This week somebody attends to Yoda with some kind of brush.
Thanks to all who entered. The prize of a small amount of kudos to the following:
6. Andrew Cumpsty:
Ewok hair is so hard to remove.
5. Vanessa Cleland:
"What category do I file Yoda under? It's coming up no barcode."
4. Mark Shotter:
"Yoda… I AM YOUR BARBER!"
3. Dave Gleeson:
"The Empire Strikes Back... and Shoulders."
2. Martin Wallace:
He tried not to let it bother him, but he preferred it when the Wookie brushed him.
1. Jeff O'Boyle:
Orville the Duck was ready to silence the critics who said that he was too old to make a comeback.
Full rules can be seen here
[16KB]
Subscribe to the BBC News Magazine's email newsletter to get articles sent to your inbox.