Nutella recipes for hardcore fans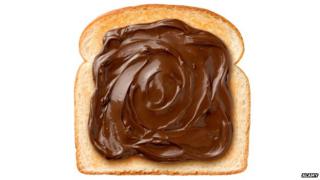 The death of Michele Ferrero on Saturday at the age of 89 came days after World Nutella Day, an annual event for fans of the chocolate hazelnut spread - some of whom have developed imaginative ways of eating it.
Last year, on Nutella's 50th anniversary, the head of the Ferrero Rocher empire, Giovanni Ferrero, told reporter Dany Mitzman that he had eaten it for breakfast since childhood, and that his two sons had inherited the habit.
Hardcore fans will eat it for lunch and dinner too, judging by these comments and recipes posted on the World Nutella Day website.
Chicken enchiladas with Nutella mole: an enchilada with shredded chicken and cheese and cooked in a flour tortilla. Then covered in a Nutella-based mole sauce, including onions, peppers and garlic. Wandering Chopstick
"Nutella & mashed potatoes saved my life," says Michael S. "They're a delicious mix I was forced to try on the mountains after snowboarding. Mixed with jam it was a perfect holiday meal!"
Sweet and spicy Nutella-coated bacon: thick strips of bacon sprinkled with a spice mixture and then slathered in Nutella. Posted by Paula at Bell'alimento
Nutella and mascarpone grilled cheese on brioche: a brioche sandwich with a Nutella and mascarpone filling (and optional cinnamon) is fried in butter on both sides, then sprinkled with powdered sugar and sliced strawberries. Aimee at Sweet and Saucy
"On a long backpacking trip we mixed Nutella and peanut butter and ate it on pilot bread," says Betty S. "That was supremely good, but I later discovered that it is even better eaten right out of the jar, at home."
Nutella cocktail: a blended mixture of vanilla vodka, Bailey's, Frangelico, milk, ice and Nutella. Cook Almost Anything
Orange Nutella ravioli: grate orange zest over Nutella, wrap it in sweet dough and bake. No sauce necessary. Theresa from The Food Hunter's Guide to Cuisine
"Nutella and butter together are the best!" - Susan I.
Nutella risotto: this usually savoury dish is made sweet by mixing Nutella, butter, milk and sugar in with the rice. The result is similar to rice pudding. Shannon at Adventures in Food
Banana Nutella tempura: banana slices coated with Nutella and deep fried in a flour and egg batter. Beatriz from Suitcase Contents
"Nutella and pizza base with strawberry sauce," - Maddy H.
"Nutella & a spoon. Why mess with perfection?" - Rebecca D.
Reporting by Elle Metz
Subscribe to the BBC News Magazine's email newsletter to get articles sent to your inbox.