Why Dilwale Dulhania Le Jayenge ran for 20 years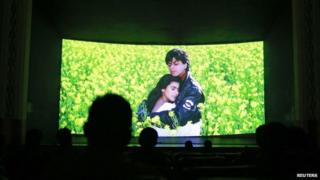 After a run of more than 20 years, the Bollywood film Dilwale Dulhania Le Jayenge - known to fans as DDLJ - has had its final screening at a cinema in Mumbai. It's one of the most successful Indian films of all time, grossing millions not just in India but around the world. Rajini Vaidyanathan asks what makes it such a classic.
The ultimate Bollywood rom-com
To the uninitiated, this film was significant to Bollywood, as When Harry Met Sally was to Hollywood - a rom-com which defined a generation. The romance forged by two expat Indians who meet on an inter-railing trip around Europe, still warms hearts today, however outdated it now feels. It also fulfilled every cliche in the Bollywood rule book, while showing a new self-confidence about the portrayal of love. A boy named Raj falls for a young woman named Simran, her father disapproves and tries to marry her off to someone else. Raj tries to win her family over, but it all ends up in a bloody fight scene (where grown men are seen hitting each other with sticks). But a few black eyes later true love prevails. The idea of a "love" marriage was still seen as rebellious in 1990s India, but the finale where Simran's father finally gives in provided the perfect family-friendly ending. "It says that it is cool to be Raj and Simran while maintaining our Indianness and culture," actor Shah Rukh Khan said of the film last year.
The cult of Shah Rukh Khan
The film catapulted actor Shah Rukh Khan to stratospheric levels of fame, and made him Bollywood's biggest heart-throb. His role as Raj Malhotra, the doe-eyed, lovesick bad boy with a good heart, served as a mould for several of his later characters (some of them also called Raj). His pairing with the actress Kajol, was also seen as a turning point for both their careers. They'd acted together before, but their chemistry in DDLJ made them the one of the hottest on-screen couples Bollywood had ever seen.
Reflection of the times
The film was released in 1995, a few years after India had opened up its economy to the world. The country was changing both culturally and economically, and young people were displaying a new self-confidence. The film was seen as one of the first to truly reflect this. It was also cool and trendy - the characters dressed in denim jackets and blue jeans! They blended Indian fashion with Western designs, lived overseas and represented a new brand of global Indian.
Overseas appeal
Two young Indians who meet inter-railing ranks as a pretty strange premise for a blockbuster movie, but it provided the perfect opportunity to shoot in a number of European capitals. A dance number on the top deck of a double decker bus, a scene on the escalators of the London underground and plenty of dancing in the foothills of snow-capped Swiss mountains, were all part of the film's mission to appeal to millions of Indians living overseas (non-resident Indians, or NRIs). The film grossed more than $2m outside India, and sparked a Bollywood trend for European destinations. It's been reported that one early idea to reach the international Indian audience, was to cast Tom Cruise in the role of Raj.
The songs
You'd be hard pressed to attend an Indian wedding, without hearing one of the songs from DDLJ. The music was an integral part of the film as the character of Raj travelled from train to train, carrying a small mandolin, his secret weapon for wooing Simran. Almost all of the songs from the film were hits, mixing traditional Indian folk song motifs, with the classic schmaltzy love songs modern Bollywood is famous for.