Caption Challenge: Hairy figure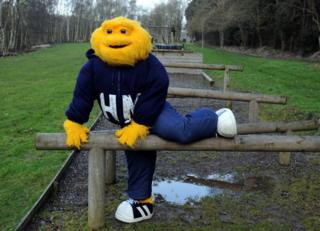 Winning entries in the Caption Challenge.
The Caption Challenge is now closed.
There is still no prize, except the traditional small quantity of kudos.
This week a person dressed in a Honey Monster costume does some exercise. Other breakfast cereals are available.
Thanks to all who entered. The prize of a small amount of kudos to the following:
6. Mapmaker Scarborough:
A young hopeful warms up at the auditions for Tchaikovsky's The Crunchy Nut-Cracker.
5. Anthony Sawyer:
New rehabilitation programme introduced for cereal offenders.
4. Billy Buchan:
Russian hurdler strongly denies allegations of doping.
3. Jake Perks:
Colin Jackson admits his fondness for sugary cereal means he's "let himself go" a bit.
2. Matthew:
Madonna dons new protective suit while cautiously practicing her latest dance routine.
1. Helena Minton:
Personalised sweatshirt foils the Queen's attempt to arrive incognito.
Full rules can be seen here
[16KB]
Subscribe to the BBC News Magazine's email newsletter to get articles sent to your inbox.