Weekend edition: The best of the week's reads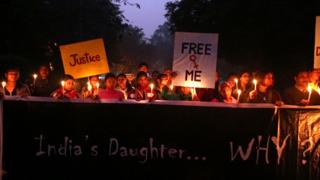 A collection of some of the best reads from the BBC News website this week, with an injection of your comments.
After film-maker Leslee Udwin met Mukesh Singh, she said it felt like her soul had been dipped in tar. Singh is on death row in India for raping a woman on Delhi bus - the victim later died of horrific internal injuries. Singh is one of four men sentenced to death for the crime. He is currently appealing his sentence. In an interview with Udwin, which was filmed for a documentary, he appeared to show no remorse, suggested the victim was to blame and said she might have survived if she had not fought back. Since the article was published, the Indian authorities banned the broadcast of the documentary there. Many readers tweeted that they found the story chilling, disturbing and depressing. BBC Trending noted that people opposing the documentary had been tweeting with the hashtag #banBBC. But it was not the most popular tag to emerge from this controversy. There was also #NirbhayaInsulted (the victim has been called "Nirbhaya", or "the fearless one", by the media) and #DontRapeAgain.
Delhi rapist says victim shouldn't have fought back
Special delivery
Australian Reg Spiers was working in the export cargo section of a London airport when he found he didn't have enough money to fly home. He noticed that you could pay cash-on-delivery for freight. He also knew the maximum size allowed for crates. So he got his friend to make a crate, labelled it as paint, addressed it to a fictitious shoe company, packed some tinned food, a torch, blanket, pillow and two bottles - one for water, one for urine - and got inside. He endured a 24-hour delay in London and in Bombay the baggage handlers parked his box upside down. But, incredibly, he made it.
The man who posted himself to Australia
Quiet Don
When Chris Haslam went to visit the loneliest man in Argentina, the interview didn't go too well. Don Roberto wasn't playing the interview game. Trevor Branch picked out the bit where Chris asked if loneliness was a problem. "People drop by all the time," sighed Don Roberto. "Just eight weeks ago I had a visitor." But as Chris sat in a diner 88 miles north of Don's house, a waitress revealed the real story. Actually, Don wasn't alone in the vast wilderness. Behind his house was his sister's. No-one remembers why they fell out, but they haven't spoken in 30 years. "You think you have sibling issues?" tweets The Naked Monk.
The dogged old man of the badlands
I spied
What makes a founder member of al-Qaeda become a spy for the British? The answer includes a 13th Century fatwa. When two US embassies were bombed in Dar es Salaam and Nairobi, 12 Americans and at least 240 locals died. Aimen Dean told us he was training in Afghanistan with al-Qaeda at the time. He wasn't clear on the religious justification for killing civilians. So he asked. He was told a fatwa was issued in the 13th Century AD throughout the Muslim world. The fatwa legitimises attacking an enemy even if it means there are civilian deaths if the enemy is using them as a human shield. It was a response to Mongols invading Muslim cities and then forcing civilians to push their siege walls to the next city. That was a life-or-death situation. Aimen didn't see the resemblance to the embassy bombings and two months later he decided his loyalties had changed.
The spy who came in from al-Qaeda
Treasure trove
Switzerland is consistently ranked as one of the wealthiest countries in the world. So rooting through the stuff people leave on trains is well worth the effort. One man has made it his business and runs a shop selling lost property. At the moment Roland Widmer has a diamond bracelet worth 26,000 francs (£17,600, $27,000) and a watch estimated at 36,000 francs for sale. Some of his more unusual acquisitions have included a gallstone from the 1960s, a prison uniform and, his favourite, a ring with poison inside. Liz Cookman says she'd like to think of this guy as the Willy Wonka of the "stuff" world.
Striking gold with a hoard of lost property
Dry island
Beer was banned in Iceland from 1915 to 1989. Bob D was among many to tweet "I didn't know that". Lifestyle economics writer Christopher Snowden picks up on why they did this, tweeting: "Prohibition was seen as progressive, like smoking [bans] today." Curiously, beer had been singled out for political reasons. A century ago, Iceland banned all alcoholic drinks. Within a decade, red wine had been legalised, followed by spirits in the 1930s. But full-strength beer remained off-limits until 1 March 1989. That's because Iceland was engaged in a struggle for independence from Denmark at the time, and Icelanders strongly associated beer with Danish lifestyles.
Here are some things we've enjoyed this week from elsewhere around the web:
Portraits of Mexican Criminals Turned Tattoo Artists - The Plaid Zebra
What Francis Underwood Gets Right (and Wrong) About Drones (includes spoilers) - New Yorker
The pigeon king and the ponzi scheme that shook Canada - The New York Times
Subscribe to the BBC News Magazine's email newsletter to get articles sent to your inbox