Who, What, Why: Why doesn't McDonald's sell all-day breakfasts?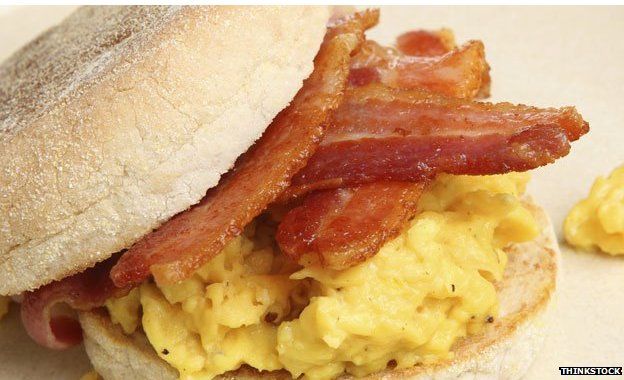 McDonald's plans to test all-day breakfast at some locations in the US. Why can't you choose from the fast food giant's morning menu in the afternoon?
It's past 10:30 in the morning and you're struck by a sudden craving for an Egg McMuffin. But you can't have one because the breakfast menu has stopped. Why?
Michael Douglas's character in the movie Falling Down drew his gun in a fast food restaurant after being told he was four minutes late for breakfast. Now McDonald's is planning to trial an all-day breakfast menu at several locations in San Diego, California, from next month. The company has previously tried similar experiments, but each time they have failed.
It's a matter of logistics. On its website, McDonald's says its kitchen grills "simply don't have the room for all of our menu options at one time". Elsewhere, it says its "universal holding cabinets" in which food is kept warm, are almost at full capacity during the day. This means there is nowhere to store breakfast items as well as products from the main menu.
Fast food depends on speedy assembly, says Kiti Soininen of market research company Mintel. "A wider range of products adds to complexity, which can in turn hamper speed and accuracy."
Meat and burgers are cooked at a higher temperature than eggs, complicating the cooking process. In the morning it's possible to prepare sausages and bacon ahead of time, but this isn't so practical during the lunchtime rush, according to Benzinga. While the ingredients of breakfast items are cheaper, scrambling eggs is also relatively labour intensive - someone has to stir them by hand, meaning profit margins are not so large. There is a limit on toaster space, too.
However, falling sales have no doubt inspired McDonald's to look again at an increasingly popular section of the market. According to Mintel, a third of UK adults now eat breakfast outside their home at least once a week. But British customers may have to wait a little longer. In a statement, McDonald's said it had no plans to repeat the trial in the UK but would "instead continue to strike a balance between our breakfast and main menu lovers".