Weekend edition: The best of the week's reads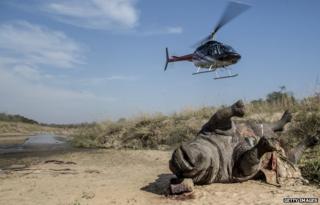 A collection of some of the best reads from the BBC News website this week, with an injection of your comments.
Last year in South Africa, a record 1,215 rhinos were killed for their horns. This slaughter is fuelled by the mistaken belief in Asia that rhino horn cures cancer and is an aphrodisiac. One rhino horn can fetch $250,000 (£170,000). Poachers usually work in groups of three. One shoots the rhino, one cuts off the horn and the other acts as a look-out. Eusebio, 27, is a poacher. He lives in one of many small Mozambican villages scattered along the South African border. Though he's not proud of killing rhinos, he says his family might otherwise be going hungry: "Cutting the horn is hard, but we in the countryside are used to cutting wood with a machete, so it's not difficult for us." Now a whole industry to protect the animal has arisen, with a series of anti-poaching security companies springing up. In 2014 42 poachers were killed by rangers and police. But the authorities acknowledge that poverty - one of the root causes of poaching - won't be eradicated any time soon soon.
Poaching the creature that's more valuable than gold
The disappeared
A police officer leans across to ask, out of his open car window, if a young woman on the streets of Winnipeg is on her way home. "Are you my father?" comes the reply. "No, just worried about your safety here," the officer says. It's part of the efforts by the Canadian police to address the risks women, including sex workers, face. The number of Aboriginal women and girls who have been murdered in the city over the past few years is alarming, wrote the BBC's Joanna Jolly in Red River Women. Many of the victims end up in that river. It was a "captivating report," wrote Steve Lindenau from California on the BBC News Facebook page. With chilling photography by David Botti.
The crate escape part II
Last month, the Magazine brought you the incredible story of Reg Spiers, who posted himself from London to Australia in a box in 1964. A reader got in touch to tell us that someone he had known at school had tried to do the very same thing - but in the opposite direction. It took reporter Jason Caffrey some time to track Brian Robson down - but he did, and this week we ran his tale. It's late 1964 and Welshman Robson has just arrived in Australia on an assisted immigration programme which means he's committed to spending two years in the country. Unable to leave legally, he initially decides to stow away on a ship bound for the UK. Thwarted by a bout of awful seasickness, he rethinks the plan. Robson buys a crate, packs two pillows into it, as well as a torch and two bottles - one for water and one for urine. The first leg of his journey, from Melbourne to Sydney, goes smoothly. But from there his plan starts to go badly wrong. The Welsh Gift Shop tweeted: "Wow, this is a serious case of 'hiraeth' (longing for Wales)".
The copycat who nearly died air-mailing himself home
Beer hall bomb
"An ordinary man with extraordinary purpose," tweets Doug Stokes about Georg Elser, whose story we published this week. Elser - a 36-year-old carpenter from a small town in southern Germany - came very close to assassinating Adolf Hitler in the early days of World War Two. In 1938, the young man came to the conclusion that under Hitler, "war was unavoidable". The following year, he started working in the Munich beer hall where the Fuehrer delivered his annual speech. It was here that Elser built and hid the bomb that would target Hitler and the Nazi top brass. The Fuehrer always began his beer hall speeches at the same time, which is how Elser knew when the Nazi leader would be there. But on that occasion he left early - just 13 minutes before the bomb detonated. It's one of the greatest "what ifs" of history and the event is the focus of a new film that has just opened in Germany. Who was Elser and why did he do what he did?
The man who missed killing Hitler by 13 minutes
Here are some reads we've enjoyed this week from elsewhere around the web:
How to Say 'Yes' (by Not Saying 'Yes') - The Atlantic
Why Would Anyone Want to be a Football Referee? - Esquire
Rolling Stone and UVA: The Columbia University Graduate School of Journalism Report: An anatomy of a journalistic failure - Rolling Stone
Game theory of Thrones: how strategy might decide who rules Westeros (includes plot spoilers) - The Conversation
Subscribe to the BBC News Magazine's email newsletter to get articles sent to your inbox.