Caption Challenge: Robot road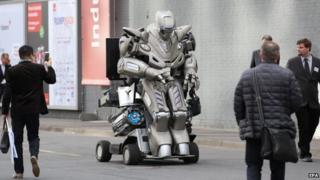 Winning entries in the Caption Challenge.
The competition is now closed.
This week a robot makes its way through the streets of Hanover, Germany.
Thanks to all who entered. The prize of a small amount of kudos to the following:
6. Adrian Wade:
People began to suspect Ethel's addiction to iron supplements…
5. Bill Walker:
Jeremy Clarkson prepares for his next motoring trip to Argentina
4. Frank Bushnell:
"Attention, humans, we have conquered the planet Earth. Take me to your... nearest charging point. Please."
3. Rob:
Optimus slightly past his prime
2. PedroVic:
Why can you never find a drop-kerb when you need one?
1. Sue McDermott:
The designer handbag helps this robot blend in on a busy Hamburg shopping street
Full rules can be seen here
[16KB]
Subscribe to the BBC News Magazine's email newsletter to get articles sent to your inbox.