Caption Challenge: New broom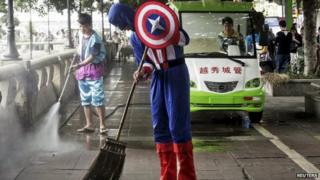 Winning entries in the Caption Challenge.
The competition is now closed.
This week a student in a Captain America costume sweeps the streets in the Guangdong province of China as part of a campaign to mark Earth Day.
Thanks to all who entered. The prize of a small amount of kudos to the following:
6. Andrew Baker:
"Join the Avengers, they said. See the world, they said."
5. Steve Wadlow:
It was a little known fact that Captain America's death was caused by a Chinese ice cream van.
4. Randeep Chatha:
Working off their debt with China is proving a monumental task for the US.
3. Howard Gardiner:
Working outside the US embassy, Jian hoped his outfit would smooth his visa application.
2. SkarloeyLine:
The Chinese curling team had promised to be discreet when working with their new American coach.
1. Chris Goff:
Captain America realises his offer to "clean up this town" was probably lost in translation.
Full rules can be seen here
[16KB]
Subscribe to the BBC News Magazine's email newsletter to get articles sent to your inbox.