Caption Challenge: Staring meaningfully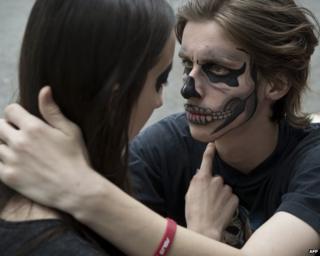 Winning entries in the Caption Challenge.
The competition is now closed.
This week a couple with a fairly thorough approach to make-up stare into each other's eyes.
Thanks to all who entered. The prize of a small amount of kudos to the following:
6. Ash B:
Charity wristband photobombs mysterious gothic scene.
5. Brian Nisbet:
"Look deep into my eye sockets."
4. Davy Grant:
"Have a little faith dear! The chimney sweep business will take off!"
3. Arthur Negas:
"It's not you, it's me. I've passed on."
2. Andy Dunwoodie:
Tanning pills recalled following contamination with Friesian cow DNA.
1. SkarloeyLine:
Edinburgh zookeepers adopt disguise to show the reluctant panda couple how to perform.
Full rules can be seen here
[16KB]
Follow @BBCNewsMagazine on Twitter and on Facebook