Weekend Edition: The week's best reads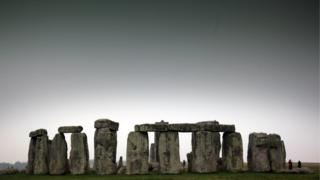 A collection of some of the best features from the BBC News website this week, with an injection of your comments.
"Great story," posted Luvperu Polly. Just over 100 years ago, a man visited an auction house to buy something for his wife. He returned home after purchasing Stonehenge. That's one explanation for how Cecil Chubb came to own what became one of England's most significant monuments. He paid £6,600 (or £680,000 in today's money) for the stones and the land they sit on. The reasons given for why he bought it and subsequently gave it away are many and varied.
The man who bought Stonehenge - and then gave it away
Flame brigade
"Great article. Thank you for sharing this," posted Erin Bz. Henry Cruz is no ordinary firefighter. He is actually a prisoner in drought-stricken California. The state - which suffers from some of the largest wildfires and some of the most overcrowded prisons - has been using prisoners to battle blazes since 1946. Overall, inmates do more than three million hours of emergency response work and save the state an estimated $80m every year."Being a firefighter is a privilege - it makes you feel like you are in civilisation," he says.
The prisoners fighting wildfires in California
Violent men
Hundreds of films and books have been made about the exploits of gangsters. With the release of Legend, about the Kray twins, breaking box office records and Black Mass, starring Johnny Depp as the Boston gangster James "Whitey" Bulger, set for release soon, we look at what intrigues audiences. "There's something immensely aspirational about it - this sense that they can do anything," says one expert.
Last wish
"This is such a wonderful article... What a brilliant idea. It brought tears to my eyes," posted Yvonne Kardinaal. Dutch ambulance driver Kees Veldboer was moving a terminally ill patient when they were told the hospital they were transferring him to wasn't ready for them. So he asked the patient if there was anywhere he would like to go while they waited. The patient, an old seaman, wanted to see the harbour one last time - so off they went. As Veldboer watched the tears of joy stream down the man's face, a great idea was born - to start an ambulance service that fulfils the last wishes of dying people.
The people who make last wishes come true
Fraud in paradise
The sparkling seas and warm beaches of Phuket are a magnet for sun-seeking holiday-makers and, increasingly, for foreigners seeking a comfortable and cost-efficient retirement. More than 100,000 foreigners have settled on the island - though some now bitterly regret it. British expat Ian Rance and Irishman Colin Vard are now living almost penniless with their children on the outskirts of Bangkok as they struggle against overwhelming odds to recover properties they bought on Phuket. Both men lost all their investments through frauds that neither of them imagined were possible.
Recommended reads from elsewhere
A modest proposal - New Yorker
The darkness inside gymnastics - Slate
Rise Craig David, your time is now - Noisey
Subscribe to the BBC News Magazine's email newsletter to get articles sent to your inbox.