Caption Challenge: Rubbish dress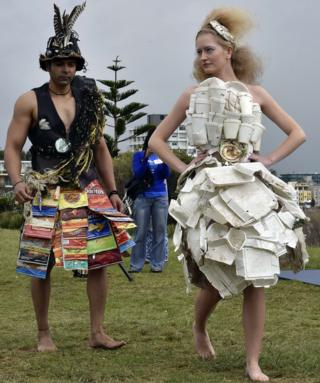 The Caption Challenge is now closed.
This week, models at the "Sculpture by the Sea" exhibition in Australia.
Thanks to all who entered. The prize of a small amount of kudos to the following:
6. Craig Jackson
"Hi, I'm Polly, Mr & Mrs Styrene's daughter. You must be Chris Packet?"
5. Anthony Sawyer
"Oh, it's just something I threw away!"
4. Mark Enfield
"Does my bin look big in this?"
3. Paul Velissarides
Dressed to landfill.
2. David Flynn
You have a perfect hip to waste ratio.
1. Siv Angel
"Now I come to think of it, the invitation might have said 'wear GLITTER'."
Full rules can be seen here
[16KB]
Follow @BBCNewsMagazine on Twitter and on Facebook