Weekend Edition: The week's best reads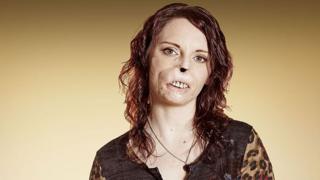 A collection of some of the best features from the BBC News website this week, with an injection of your comments.
"This woman is incredible," posted Ilona Burton. Tammy lost her lips and the tip of her nose when she contracted meningitis in 2013 and says afterwards she felt "broken and pathetic". Recently, though, she appeared on The Undateables on Channel 4 and says getting back into the world of dating has given her the boost she needed. "It has confirmed to me again and again that I am a lovable person," she says.
'How I lost my confidence when I lost my face'
Guessing game
"I'm really moved by this article," tweeted Flash Bristow. In July 2013, Graham had a severe stroke that left him almost unable to express himself. He can't read properly or write but he is able to understand everything said to him. He can't move his right arm and has limited movement in his right leg, both of which cause him pain. People can only ever guess at what it is that he actually wants to say. "Great story," concludes Madeline Cruice.
The man who can only say yes and no
Sideshow racism
"Excellent BBC article," tweeted Sarah Downes. Stage-named "Hottentot Venus", Sarah Baartman's life was one of huge hardship. It is thought she was born in South Africa's Eastern Cape in 1789, her mother died when she was two and her father, a cattle driver, died when she was an adolescent. Brought to Europe as a youngster, she was paraded around "freak shows" in London and Paris, with crowds invited to look at her large buttocks. "She has become the landscape upon which multiple narratives of exploitation and suffering within black womanhood have been enacted," writes one expert.
The significance of Sarah Baartman
The daddy quota
"This is awesome!" commented Nafija Banker. "From an international, or non-Swedish perspective, it probably seems a bit strange that men go around changing nappies and doing the washing up," says Fredrik. The country was the first in the world to replace maternity leave with parental leave in 1974, giving both partners the chance of time at home with their children. However, it wasn't until a "daddy quota" was introduced in 1995 on a use-it-or-lose-it basis that there was a widespread take-up by fathers. New rules introduced this year mean dads now have even longer - three months - set aside exclusively for them that they can't sign over to their partners.
Where new dads are encouraged to take months off work
Va va voom?
"I love this article," tweeted Aidan O'Rourke. Children as young as 14 can drive this car. It's cheap to run, and you don't need a licence in France (although youngsters must take a theory exam). Its top speed is just 45kmph (28mph) and it cannot be taken on motorways or expressways, but it's attractive to those on a budget and easy to park. Watch out for the VSP - voiture sans permis.
The little car you can drive in France without a licence
Recommended reads from elsewhere
To Catch a Rapist - New York Times
Who Controls Your Facebook Feed - Slate
Why the British Tell Better Children's Stories - The Atlantic
Who's Been Killing the Feral Peacocks of Palos Verdes - Los Angeles Magazine
Subscribe to the BBC News Magazine's email newsletter to get articles sent to your inbox.